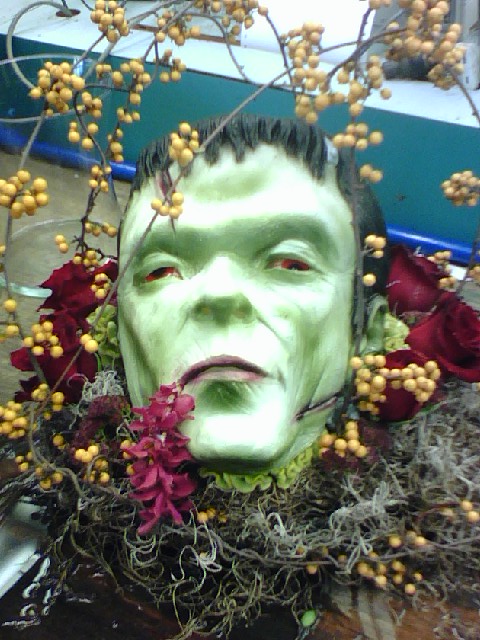 The term "Halloween" originates from the Catholic Church. It comes from "All Hollows Day" or "All Saints Day", which was an annual observance celebrated on November 1st in celebration of the saints. In the 5th century BC, in Celtic Ireland, summer officially ended on October 31st. The day was called "Samhain", (the Celtic New Year,).
During Samhain, many believed that the division between the living world and the dead world became extremely thin during this time, allowing the dead to return to the world in search of their physical bodies, which allowed the dead to co-mingle with the living!!
The villagers feared demonic/spiritual possession and would dress up in all sorts of ghoulish costumes and parade thorugh town howling and reveling to help frighten away the spirits that were looking for bodies to possess.
The custom of trick-or-treating traces its origin to 9th century European custom of "souling". On November 2nd, (All Souls Day), early Christians would walk from village to village begging for soul cakes, made out of square pieces of bread with currants. The more soul cakes the beggars would receive, the more prayers they would promise to say on behalf of the dead relatives of the donors.
Halloween continues to be a popular holiday at Exotic Flowers in Roslindale and Quincy Market. We give out candy to trick or treaters. We encourage our floral associates and drivers to come to work in costume.
As a local florist in Boston, we are also asked to create some one of a kind Halloween floral arrangements for Halloween parties. The photo above is Frankenflora.
Frankenflora is a Frankenstein mask with candy eyeballs. His head is stuffed with newspaper and rests on a bed of spanish moss, surrounded by blood red roses and sits under a sphere of bittersweet. James story orchids spew from his lips and celosia oozes from his head.
For Halloween 2010, Exotic Flowers has entered Frankenflora into the Teleflora Halloween Design Contest. Please wish us luck.