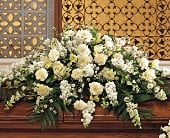 There are no right or wrong answers to ordering funeral flowers. A funeral is an emotional time and the bereaved should not be forced into buying funeral flowers because tradition dictates they should. Studies have shown that flowers do help our emotional state however.
Flowers are clinically proven to lift the spirits, so we suggest that not only should a family have flowers at a service, but also suggest friends and colleagues to send flowers as well.
Unless an American Flag or other type of blanket or flag is adorning the top of the casket, then the bereaved's lineage should always do their best to put flowers on top of the casket. If a family has limited funds then we suggest pooling the available funds and having just a casket cover. The flower casket cover is the focal point of the entire service. From funeral home to church to cemetery, the floral tribute on the top of the casket is noticed by all.
The casket cover is the most common term for this piece of flowers and is usually ordered by the deceased closest living associate or family member.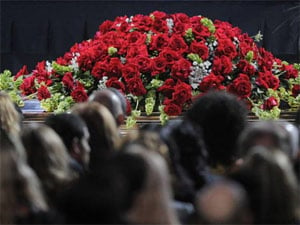 One of the more famous casket covers in recent history was for Michael Jackson (see above). Michael Jackson's casket flowers featured Freedom Roses and Bells of Ireland.
Another famous casket cover was for singer Frank Sinatra. Frank Sinatra's casket flowers were an old fashioned blanket of white gardenias at $10,000. Because gardenias yellow so quickly, two flower blankets were created for the two days of services.