When you hear of a town named, "Lovely", you might want to giggle to yourself. You may envision pink houses with picket fences, perfectly mowed lawns or even a place that the temperature is always set at a perfect 71 degrees. The picture that you're seeing in your mind is probably leading you to believe that the town is completely fictitious but interestingly enough, it's not. Nestled safely in the banks of beautiful Canada, there is a place called "Lovely" and it holds reputable to the name it's been given without a single fault.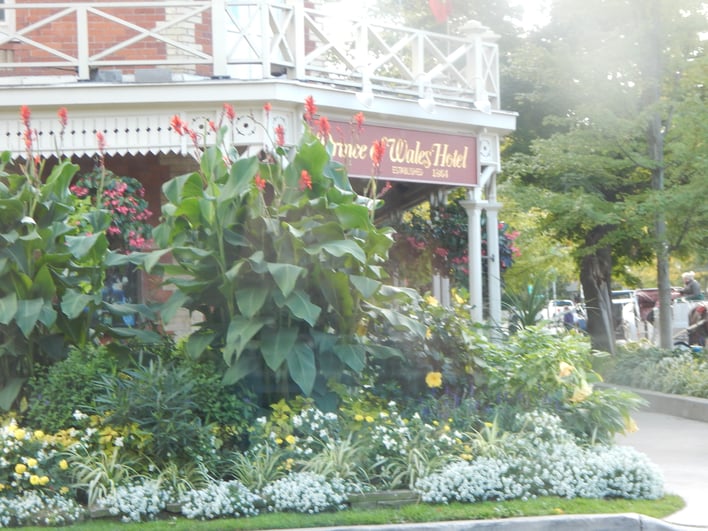 Quaint and beautiful this tiny little area is nestled within Ontario, Canada's suburban outskirts, which yields thousands upon thousands of tourists annually. No, the weather may not be reflective of a continuous day in early summer (it's Canada after all, it snows) but it is home to a lovely town, with lovely, shops, and lovely restaurants to coax just about anyone to give it a try. This tiny town is so "Lovely" in fact, that it is a popular location for cinematic production including "The Ref" featuring Dennis Leary. Yes, all of these assets make this the ideal place for a little getaway, but most of all, for those who love flowers.
For some mysterious reason, the townspeople of "Lovely" have made it their personal crusade to out beat any neighboring area when it comes to landscaping architecture and floral designing. If I hadn't seen it with my own two eyes, I might not believe it but when I say, "Wow"! I mean it…
From the tops of the roofs, to outside window boxes and lantern posts, there are stunning baskets, arrangements, garden plantings, flower beds, loaded urns and thickly dressed pergolas designed to the nines with the most glorious flowers Canada has ever seen. Lush greenery and blossoms popping with color spring from every direction as you stroll down the main street, which pulls you further inside the dream-like state "Lovely" has created. It isn't quite clear if there is a secret tribe of magical gardeners or perhaps a world-renowned society of floral designers who just happen to reside there but whatever the reason may be- the Town of Lovely is where you want to be.
Take a look at these pictures I snapped while on my travels there and see if you're just as amazed as we were with dramatic floral presence this community magnificently exudes!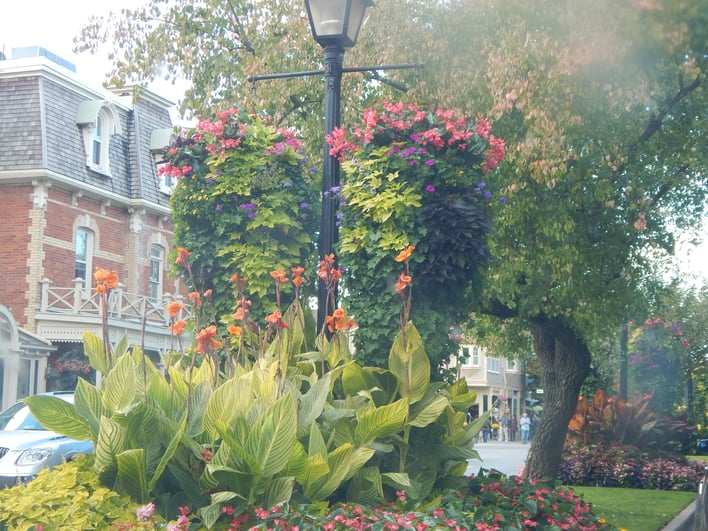 Bright flashes of color including foliage, perennials, annuals and tropicals cascade over everything, particularly in areas close to shops, restaurants, and boardwalks.