The following is an excerpt from "Walking Down the Cobblestone Aisles" - Exotic Flowers Free Wedding Planning ebook.
Chapter 2: Where to Say "I Do"...
"I dreamed of a wedding of elaborate elegance, A church filled with family and friends.
I asked him what kind of a wedding he wished for,
He said one that would make me his wife." ~ Author Unknown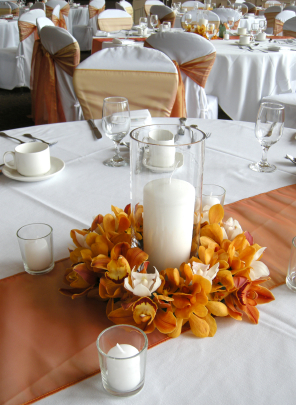 With a multitude of posh hotels, quintessential New England sites and natural attractions, Boston brides can luckily fulfill any dream day wedding wishes that appeal to her! Perhaps she has always had her heart set on the lavish gold of the Fairmont Copley Plaza or maybe her "dare-to-be-wild" personality draws her to the slopes of Killington Mountain? From the glamorous city ballrooms to tented receptions lit by the stars above, there is an ideal location to fit every couple's individuality as well as their budget. By taking a closer look at the specific vision that appeals to those readying to walk down the aisle (or ski, swim, run), wedding planners can begin to design the model appropriate for them by taking in account their spirit, tastes and cost allowances. Here are a few suggestions to get the ball rolling...
Boston Hotels~ There is no shortage of enchanting hotels in the Boston area, painting skylines with contemporary architecture and divine antiquity style. The Four Seasons Hotel, which is centrally located, provides a choice of four rooms, allowing you to choose desired views, style and occupancy accommodations. Not only will the staff assist you with finding photographers, transportation and decorators, this hotel also offers discounted rates for Friday/Sunday affairs. The Ritz Carlton is another excellent choice providing visitors with historic grandeur and magnificent views of the Boston Commons. Couples will also be delighted to learn that a five night complimentary Honeymoon package is included when booking their reception in the grand ballroom. Other recommended hotels include The Omni Parker House, The Charles Street Inn and The Grand Harbor Hotel.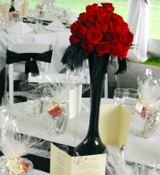 "Young princess, when you get your wedding ring,
your man is saying she's my queen." ~Nas
Boston Landmarks~ For the bride searching for reception locations which reflect the authentic Bostonian essence, she is in luck! Landscaped with the stunning gardens of the Boston Commons, galleries such as the Museum of Fine Arts which hang the highest, celebrated art work and the towers of Alden Castle staging the perfect wedding for a prince to his princess, Boston is comprised of beautiful sites which not only tell the stories of our yesteryear but also stand proudly to encompass the beginning of a couple's journey together. The Old State House of Boson offers the comprised package of luxurious event rooms while also revealing a rich tale of our city's heritage and the Boston Public Library is a desirable location equipped with a courtyard for cocktails and function hall which amply fits 350 guests. For those interested in the Boston Tea Party, The Odyssey or Spirit Cruise Lines are a fabulous choice to coast these majestic waters which shows crystal clear skylines of Boston at sunset. Whichever location of historical reference you choose, guests will be enthralled by the interesting atmosphere which of these cherished sites possess.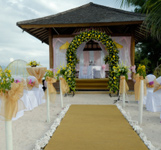 New England's Natural Attraction~ There are a multitude of reasons why planning an event within a natural setting can be an alluring alternative to traditional venues. Resorts, function halls, restaurants and hotels rest under restrictions, sometimes creating problematic situations such as room rates, availability and occupancy constraints. A secret which many couples are unaware of are the natural surroundings that bless New England, including stunning forests, oceans and even large acreage meadows. One reason for considering an "earthy" wedding is that nature provides the wedding decor for you. Rooted paths with wooded landscapes exuding the aroma of sweet pine and silky sands with melodic sounds of crashing waves are available at no cost and are exquisites sights for reciting your "I do's". Limitless guest space is another positive attribute, as long as it is kept in mind that the wedding date should not coincide with the months engulfed by New England's Nor'easter season. Suggested locations include Harold Parker State Forest located in North Andover, Ma, Long Beach of Gloucester, Ma and Blissful Meadows of Uxbridge, Ma.