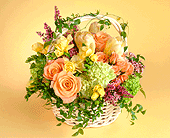 Last weekend, August 14th & 15th, was considered a sales tax holiday in Massachusetts. Massachusetts collects a 6.25 sales tax daily, but this past weekend offered 2 days of no sales tax. The argument for this amnesty is to stimulate sales at a time when retail sales are a bit sluggish. The retail sales increases add much justification for the sales tax holiday. Sales of flat screen TV's, furniture, Ipads and even house plants experience a slight surge uncommon to August sales.
As a florist in Massachusetts, we often hear clients complain about the sales tax on flowers and plants. We are on our clients' side too. At Exotic Flowers in Boston and Roslindale, we feel sales tax should not be charged on flowers, plants or even Christmas trees. Massachusetts does not charge on sales tax on dated items like newspapers, magazines etc. Isn't a cut flower or cut Christmas tree really a dated item ? Although not stamped with a date, they do expire.
We do know however that once the state can collect sales tax on an item, they rarely overturn their decision. We have learned to collect sales on flowers and plants in Massachusetts with a smile. After all, it's not like parts of New York where the sales tax on flowers approaches 9%.