If you're mulling over the idea of picking a wedding date before the year is over, you might want to contemplate saying, "I do" on December 24th or 25th. Sound like a ridiculous idea? There are actually several positive aspects of throwing a Christmas Eve/Day ceremony including wider availability, lower costs for reception halls and higher accessibility to bridal vendors (eg. wedding planners). Another bonus is that you'll be choosing an important spot on the calendar, which decreases the likelihood of one of you forgetting your anniversary (trust me, it happens).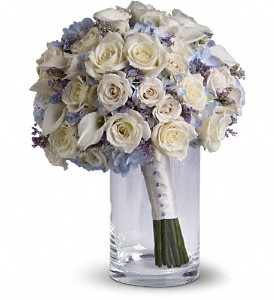 For many couples who debate booking their nuptials in December, fear commonly derives from the flowers having to be an all white, red and green color palette but I assure you there are other options. While it is true that these shades are abundant during the yuletide season and more affordable, florists can still create bridal worthy floral work without making the church or event room look like a lit up Christmas tree. Keep in kind there will be varieties intertwined that are accustomed to the holiday product line but use this to your advantage. Foliage such as pine is a lot cheaper than other greenery such a hosta leaves or ruscus. In the long run, it will save you money so be aware of what your florist is carrying this month and compromise additions within pew markers and boutonnières. From bouquets to table centerpieces, let these stunning samples convince you of the vast possibilities that await a holiday wedding celebration!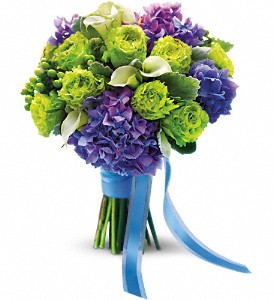 The trick to making a December wedding not look "Chrismasy" is to keep all three of the red, white and red color combination out of your bridal work. One or two shades are okay but a third will bring you right back to the holidays and that's what you want to avoid. This bouquet features white ranunculus (luckily available at this time) and white hydrangea. Place pearl pushpins in the center of the heads and you'll dazzle with this stunning all-white-wedding theme.
For those who desire a sultry style, you may want to go for the deep reds and burgundy color tone. Not only is the look both wedding appropriate and beautiful, florists will be able to utilize the abundance of berries, amaryllis and roses that are popularly shipped into Boston during December. Candlelight works really well against this sexy platform as well and inspires a romantic feel for both newlyweds and guests.
You can't get more glamorous than a thick bunch of green cymbidiums for a bride and her maid's hand held bouquets. These orchids are fabulous year round and also enhance an exotic appeal. You might be worried that you can see white in the center as well as a touch of pinkish red but in no way does this pretend to be a Christmas inspired presentation. The cymbidium bouquet is sleek and tropical so there's no mistaking its bridal worthy effects.