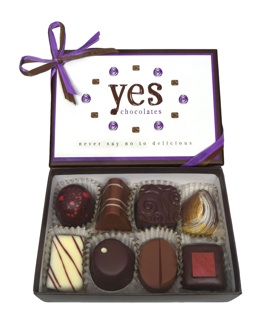 Boston
For Immediate Release
Local chocolate lovers have a new love. Yes Chocolates, based in Brookline, launched in October, 2011 with a simple philosophy: ' Never say no to delicious '.
Yes Chocolates features professionally homemade chocolates and treats that are all handmade by Head Chocolate Honcho, Rebecca Novak.
Rebecca trained and received her degree in deliciousness at the world-renowned French Culinary Institute in New York City. There she perfected the art of small batch, big flavor chocolates and baked goods.

Yes Chocolates offers a wide variety of delicious treats, including signature truffles like Root Beer Float, Guava Grapefruit and Sticky Bun, as well as French Macarons, which routinely sell out upon weekly deliveries to neighborhood chocolate shop Beacon Hill Chocolates.

Exotic Flowers flowers will be featuring Yes Chocolates eight piece box of delight at $19.99
The gourmet chocolates are available in our Roslindale store as well as an add on for all local Boston deliveries.