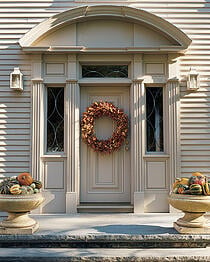 photo credit: hookedonhouses.net
Holiday décor is a major piece of the puzzle when planning your Thanksgiving Day celebration. From the cornucopias to the seasonal floral centerpieces, it's crucial for Boston's party planners to keep this in mind when hosting family and friends this November. While we all know that the turkey, cranberry sauce and pumpkin pies are the main attraction, specialists agree that adding a touch of autumn flair turns a nice Thanksgiving meal into an unforgettable event. Some shy away from installing decorations because they believe that the added cost will break their budgets but I assure you there are several ways to insert beautiful festive pieces without excessive spending.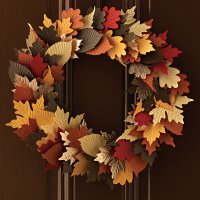 photo credit: families.com
Wreaths remain a popular decoration during the holiday months, and for very good reasons. Stylish yet simple, wreaths are easily displayed and are produced using many different materials, which is perfect for anyone with a love for flowers, shells, grape vine, leaves, berries and more. Wonderful because many options can be found right in your own backyard, the list is limitless, allowing you to reflect exactly your taste and personality within your design. Although some believe that wreathes are confined only to the Christmas season, I assure that this is not true. Thanksgiving wreaths hold their own particular appeal, offering warmth of rich color and texture. Here are a few ideas that will dazzle your holiday front door.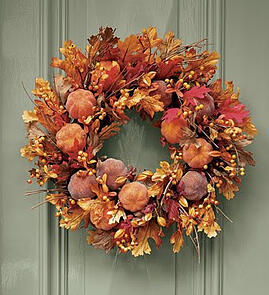 photo credit: Martha Stewart
Berries are a crafters "treat" from nature because they are versatile between seasons and have stems that are flexible in dexterity. Easy bending and weaving is important when selecting your featured material since rigid root systems can keep you from forming the desired circular or square shape. Berries are also wonderful because they come in a variety of shades including red, yellow, orange, pink, green, blue, purple, black and sometimes even peach. Excellent varieties for this project include bittersweet, rosehip and bayberries. There is one thing to keep in mind, be careful not to cut anything that is highly toxic if you are planning to hang the piece indoors. Pets and small children are at risk for swallowing poisonous fallen berries so always know what you are working with.
Fall leaves also make another splash for Thanksgiving décor because New England has the most stunning foliage during the autumn months. Don't be afraid to cut branches from a maple tree bursting with color because although the wreath may not last for years to come, it will certainly live for a few weeks leading up to the holiday. If you would like to construct this by yourself, find a thin but strong wire and wind it tightly around the sections of the two branches without leaves. Carefully add more shoots being mindful of keeping the desired structure intact throughout. Once the wreath is completed, if you find spots with too few leaves, you can layer smaller branches on top to minimize thinning areas.
Grapevine is one of my favorite types of fall wreath material because it barely ages and it is so easily made by intertwining vines within one another. This variety also has beautiful natural curls at the tips, which make a gorgeous yet unfettered and organic presentation. Luckily, grape vine is native to Boston's habitat, usually growing in abundance within ground packed with heavy mulch. Concord, Mass. is home to many grape vineyards, a perfect place to visit if you are interested in this style of Thanksgiving wreathing where many of the local farming and hand made goods stores carry a wide diversity of products using this native plant. New Englanders sure are lucky to have so many magnificent prospects of materials gifted from our natural environment to inspire our holiday decorating creations!
Suzie Canale
Westwood, MA

Suzie Canale has published four children's books and works at the Westwood Public Library in Westwood, Mass.