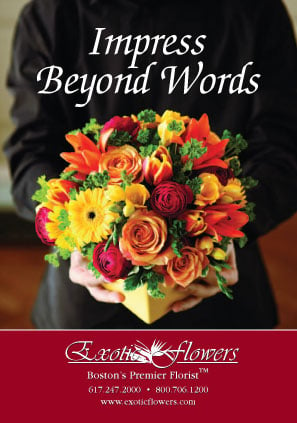 Happy Thanksgiving from
Exotic Flowers
Dear friends,
My first job was cleaning geraniums at six years old. Growing up in a family business, you learn the value of a dollar and the importance of hard work. My father always told me, 'never hire anyone who cannot sweep the floor,'. This statement pretty much is the backbone of what Exotic Flowers & Lombardi Florist are built upon. We work hard, we start early and stay late.
Some say we're crazy, but we are in a family business. Family businesses last for a reason; because we care. We care about the product; we care about our co- workers; we care about our community and we care about our customers.
Thanksgiving is about spending time with family and friends. If you cannot be there, please call or even better send flowers.
Thank you for loyalty. Thank you for your referrals. Thank you for spending your hard earned money at Exotic Flowers, www.exoticflowers.com & Lombardi Florist.
This year my wife Suzie wrote a children's book, "The Land of Chocolate Cosmos,". It will be available at all Exotic Flowers stores and for delivery. I'd appreciate any ideas to help us gain exposure. It is a great story.