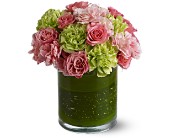 Boston has a reputation for having some flower snobs. These snobs do not care for the most tradtional of all flowers, the carnation. People often ask if we use carnations at Exotic Flowers in Boston ? Yes, Exotic Flowers sells carnations. However, we only use carnations upon request. You might be surprised, but people do ask for carnations. Clients may not ask often, but the carnation has seen a resurgence in popularity in the past few years.
The traditional red, white and pink carnations remain passe, but new varieties like lime green, deep purple and lilac are popular and affordable.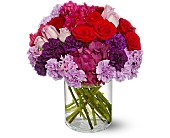 This arrangement, 'Roman Holiday' is one of our features for Valentines Day and the arrangement highlights the colors of the holiday and showcases the trendy purple carnation.
The carnation remains affordable, usually $12-$15 per dozen. At Exotic Flowers headquarters, we carry about 600 stems on hand daily. Clients often arrive looking for a long lasting, inexpensive flower. Carnations are also versatile, fragrant and durable.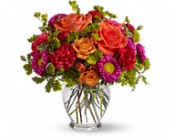 The carnation remains the flower of the month for January. Its scientific name, Dianthus Caryophyllus, is derived from the Greek-"dios" and "anthos", translation being "The Flowers of God". Carnations have been around for about two thousand years.
At Exotic Flowers in Boston, we pride ourselves as florists, neighbors and businessmen. An old time rep used to say 'you should love a third of your merchandise, a third of your merchandise should be your best sellers, and a third should be things you wouldn't be caught dead with.' We really do not care for red carnations, but we are businessmen and aim to meet all the floral needs of our Boston flower buyers.