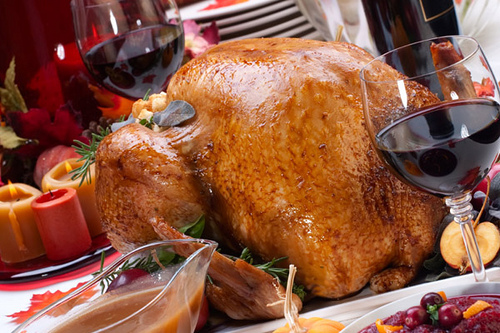 Thanksgiving feasts can be decadent, simple, festive and joyous. All Thanksgiving meals should feature food, flowers and wine.
From Boston to Byfield or Roxbury to Rockland... Exotic Flowers Thanksgiving flowers are a tradition for families and restaurants in Boston.
Most purists suggest white wine for Thanksgiving dinner, but I am a red wine drinker and I am sharing my top five red wines for Thanksgiving.
Simi Reserve Cabernet - full bodied with rich dark fruit. Ideal wine for a smaller intimate Thanksgiving dinner.
337 Cabernet - the best bang for the buck on the list. A thoroughly enjoyable Cabernet can plenish the masses for only $13 per bottle.
Hitching Post Pinot Noir - made famous by the movie Sideways; this Pinot is full bodied and is ideal if you are going with a vibrant King Salmon for your dinner.
Kendall Jackson Summation - smoother than Cabernet and richer than Merlot with a nice Zinfandel bite; this varietal is an all star at under $15 per bottle. Fun wine and highly recommended for a dinner party.
Smith & Hook Cabernet; my new favorite Cab. Thanks my friends at The Capital Grille in Chestnut Hill
Five top notch red wines for Thanksgiving.
Of course don't forget the flowers. Flowers, food, wine, friends, family. Start your own tradition.