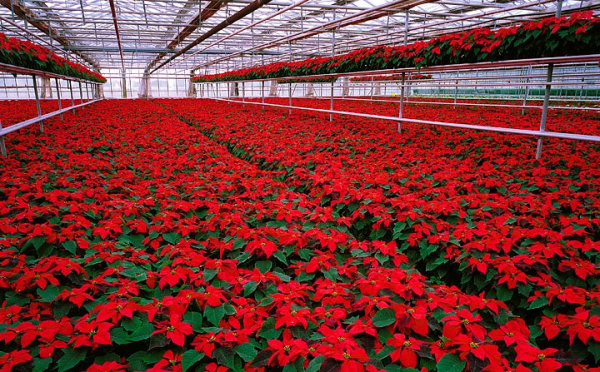 Did you know that Exotic Flowers of Boston grows hundreds of our own poinsettias at the Lombardi Florist greenhouses in Roslindale. For years, we have witnessed the glut of Canadian grown poinsettias in Massachusetts. These Canadian poinsettias flood the marketplace in November with low price tags and even lower quality. Caveat emptor.
If you cannot make it to an experienced grower or nursery like Exotic Flowers or Lombardi Florist, here are some purchasing tips so that your poinsettias lives beyond Christmas.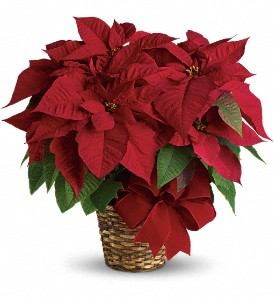 Flowers: Poinsettias are leafy plants with dark green leaves. Many people believe these leaves are the flowers. They are incorrect. The real flowers are the tiny mostly yellow berrylike cyathia in the center of the leaf bract. The cyathia should be fully developed but unopened and displaying no pollen.
Colored Bracts: look for poinsettias with thoroughly colored bracts. You want a poinsettia that does not appear bruised or blemished. Droopy is bad. Avoid plants with 'burned' or dried out edges.
Leaves: Look for a poinsettia with plentiful dark green foliage all the way down to the stems. Avoid poinsettias with yellow or brown edged leaves.
Soil: Check for waterlogged soil. This could be a sign of root rot.
Pests and Diseases: If you see any type of pests or mold, avoid that plant.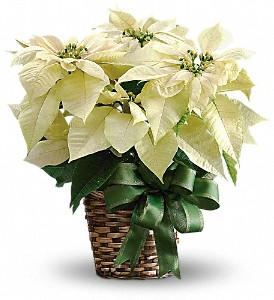 The United States recognizes Poinsettia Day every December 12th, which is also the day Dr. Joel Roberts Poinsett died. Dr. Poinsett is was an American diplomat who introduced the poinsettia to the United States from its native Mexico. There is now even a College Football Bowl Game in San Diego every December to honor and promote the poinsettia,
The Poinsettia Bowl.