The following article appeared in the SAF Sales Wake Up ! on Saturday, October 29th 2016.
By Mary Westbrook
In Boston, Rick Canale has found a new way to solve the ongoing challenge of helping staff members connect quickly with customers in an authentic way: sweatshirts.

Earlier this week Canale handed out hooded sweatshirts to his employees at Exotic Flowers. On the back, each shirt has the word "Flowers" and the number "98"— both a reference to New England Patriots defensive end Trey Flowers, whose name is too perfect for Canale to resist.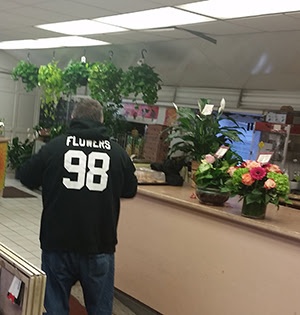 At Exotic Flowers in Boston, employees don a sweatshirt featuring the name of a favorite New England Patriots player — who's last name happens to be flowers — as a way to create connection with customers.
"This visual statement sends a message to customers," Canale said. "It not only opens a dialogue with clients to show common interests, but it shows that we are not just the 'florist behind the counter.' We have similar likes and dislikes."

That personalization is no small thing. According to the research firm Gartner, 64 percent of people say customer experience is more important to their purchasing decisions than price.

In addition to keeping staff warm, the sweatshirts have injected an immediate dose of personality into customer interactions. (Imagine a big smile and shared "Go Pats!" compared to the far less memorable and often ineffective sales approach "can I help you?")
"It is just another piece that personalizes our relationship with customers," said Canale.

Canale has also taken the flowers/flowers love beyond the physical store, interacting with the football player on social media.

"He has re-tweeted our support to his fan base, which is an added bonus," Canale said.

And Canale says that florists in other metro areas who want to copy the easy conversation-starter have options, too.

"There are many pro and college athletes with the last name Flowers," he said. "Tyler Flowers is a catcher for the Atlanta Braves. Brandon Flowers is on the San Diego Chargers and Marquis Flowers plays for the Cincinnati Bengals."
Read more about why "can I help you" is ineffective and get 25 ideas for alternative phrasing.