Boston You're My Home Promotion
Expecting a new baby? Anticipating a loved one's soon to be bundle of joy?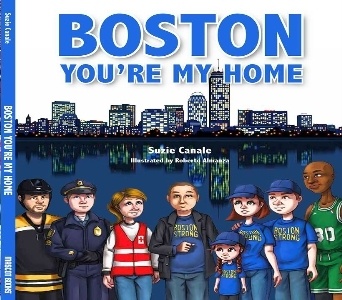 Traditionally, children's books have always been the number one choice for baby gifts, specifically ones that are written about the geographic region where the child has been born. For example, "Make Way For Ducklings" and "Goodnight Boston" are two favorites that hospital gift shops almost always have on hand. While these are definitely classics to all of us, young listeners and readers now have another option available to them. If your new addition will soon be calling Bean Town their home, you now have another option available to add to their library collection.
At Exotic Flowers, we have the perfect promotion that celebrates this spring's special deliveries! For every $75.00 spent on a gift basket or arrangement for a baby boy or girl, Exotic Flowers will send along a free copy of "Boston You're My Home" children's book along with the delivery. Whether it is sent to the home or to one of our city's great hospitals including the Brigham and Women's, Mass General Hospital, Newton Wellesley, Tufts or any other one of our medical center treasures, Exotic Flowers will include a special signed copy by the author with your order.
Why is "Boston You're My Home" the right storybook for your little Bostonian?
Written by local author, Suzie Canale and illustrated by Roberto (also from Boston), "Boston You're My Home" is a bedtime tale revealing all of the amazing features that makes living here so wonderful. Mentioning sites and attractions such as the Isabella Stewart Museum, The Arnold Arboretum and The Union Oyster House, the story gives a glimpse into all of the special music, food, sports arenas and historical venues that they will soon be experiencing! Not only does the book list specific locations that have made Boston infamous around the globe, but it also gives a look into the extraordinary people which we are lucky to have living and working here too! Our firefighters, police force and emergency response teams are celebrated within the story as well as the concept of Bostonians being a beautiful and eclectic mix earning our proud namesake, "The Melting Pot". Written in poetic rhyme, the illustrations exude strong color and definition and successfully impress with visual renditions of landmarks including the Swan Boats, the Emerald Necklace and Old Iron Sides.
If you are expecting a baby Bostonian this spring and are planning to send flowers or gift basket, choose Exotic Flowers' fresh approach to celebrating their city with early literacy incentives.