I know… I know…. It's beyond depressing to think about the summer ending once again but for all of you who enjoy a new season, it's right around the corner. Autumn is surely arriving soon when the trees will turn different colors and the air will infuse a crispy freshness, which makes everything seem to smell better than it ever did before. For those of you who enjoy this change, you're probably welcoming the transition that will become the theme for seasonal decorating, particularly if you're living in the New England region. If you call this your home, there are definite benefits to the four-segmented panels of our calendar since each brings its own unique inspiration that can be brought beautifully inside your homes.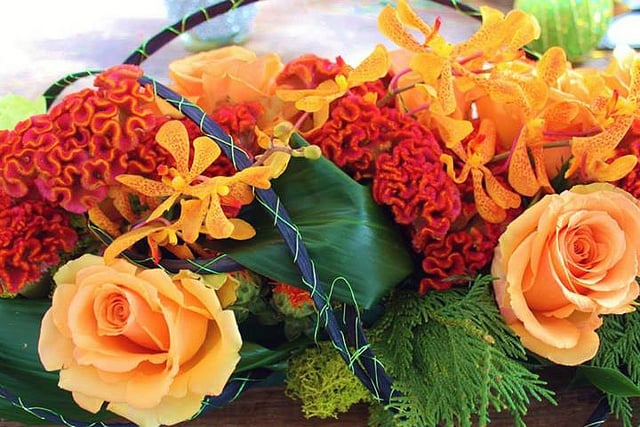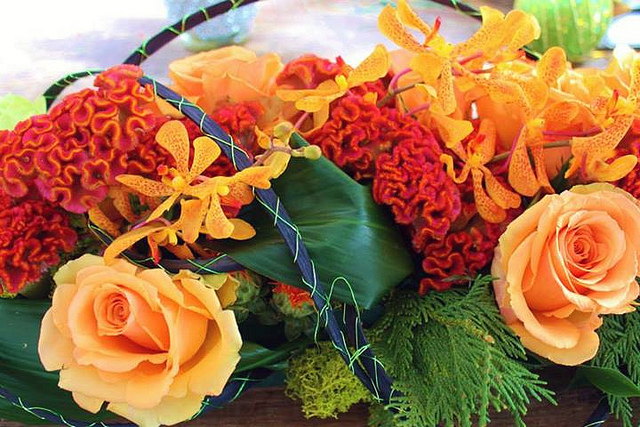 photo credit via aboutflowers.com
If we're talking about fall, then we have a plethora of material to work with, as you well know because this time of year is mirrored by rich hues and warm scents that give the sensation of coziness. Jewel tones are EVERYWHERE so you want to start here and focus on tints of gold, burgundy and emerald. Take the maples for instance where leaves transform into orange, red and yellow – these stunners mix perfectly with sunflowers of all varieties or incredible still when left entirely alone in a clear, glass vase. Other autumn gifts, which can be easily implemented, are pinecones, twigs and acorns that have fallen from trees. These can be made into wreaths or ornaments surrounding the bases of centerpieces that give an ordinary bouquet a festive touch. During this time, foliage is at its best so you'll want to keep this as the focus when planning floral pieces and other arrangements. Dahlias, mums, sage, aster, statice and dark hydrangea are also sure-fire winners with this motif.