As you all well know, I'm a garden lover who looks forward to raising a new batch of crops each and every year. This spring, I was curious to do a little research on ancient horticulture to see what civilizations from long ago used to replenish their beds. As you may have figured, each demographic of the world composes their gardening ritual in their own specific way making the process a specialized skill across thousands of different cultures. One that I found to be particularly interesting was the growing model performed by the ancient Egyptian civilization. Although the country is located across the globe, we can learn a few things about the process and platform utilized to harvest a fascinating scope of plants and flowers.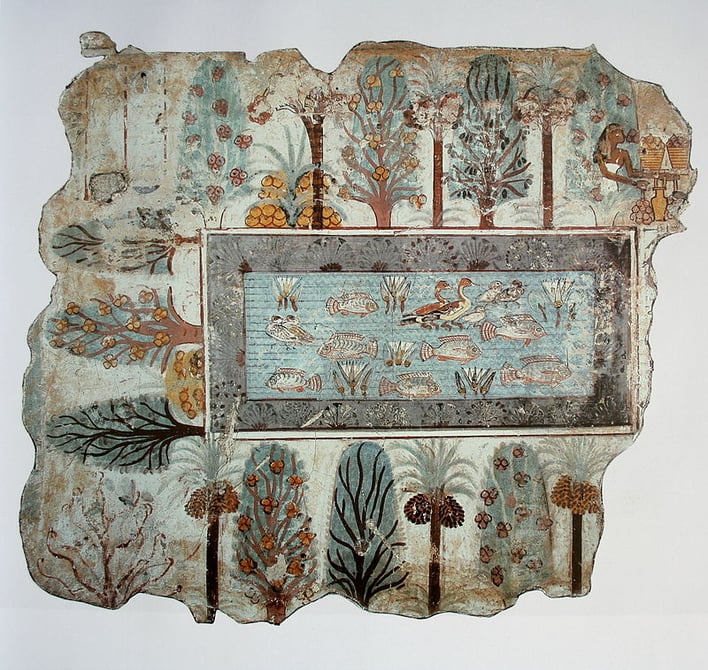 The Garden, fresco from Nebamun tomb, originally in Thebes, Egypt, now in the British Museum, London, U.K. Painting on plaster, 72 x 62 cm
The first thing we need to know is how important the Nile River was to those who had the duty of planting the gardens. Being the primary source of water, the Nile is responsible for the efficient yet stunning formatting chosen to raise both plants and flowers. As you can see by the side photo, beds were created to resemble a square box instead of a flat surface which here, we are accustomed to seeing. The reason for this complex shaping was to give water a better chance of seeping into the soil instead of being wasted by spillage. By growing a "box-like" containment around their harvests, gardeners believed there was a better chance of keeping their efforts hydrated for longer periods of time.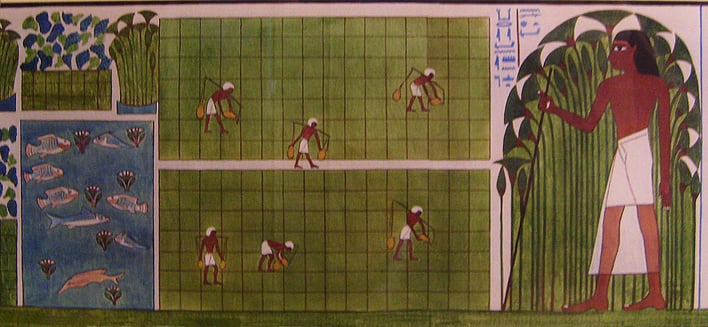 Gardens of Amun from the Temple of Karnak, painting in the tomb of Nakh, the chief gardener, early 14th century B.C. (Royal Museum of Art and History, Brussels.)
Once we understand how Egyptians kept their crops lavish in such an arid environment, we can begin to look at the specific varieties of flora and fauna they chose to grow. Initially, most gardens were made primarily as a sole source of food, choosing vegetables that were tolerable of the desert conditions. As time evolved, the inclusion of plants began to be added although not for nutritional benefits. Acacia and Sycamore Trees became pleasurable "garnish" as well as small bushes such as Cypress and Olive branches which increased the landscape architecture as well as provided shading. Once plants began to show more popularity in the Egyptian gardening palette, it wasn't long before the idea of inserting certain species of flowers became the next logical step. Poppies, lotus, anemones and even certain breeds of roses soon appeared, creating a dynamic specimen of beauty with a multi-purpose value of feeding families. Usually seen near temples, gardens then were attempted to be placed inside tombs to pay homage to the Gods of long ago.