If you've never driven across country, you should definitely put it on your bucket list because it's the opportunity of a lifetime! We are so lucky to live in a country where we are home to hundreds of different types of regions where each and every environment can be different from the next. Many people in other parts of the world have to get on a plane or cross the border into the next country to experience the richness that we already possess in our climate and ecological systems. The variations are vast and expansive which makes the U.S. the perfect spot to spend vacation time studying the eclectic nature of our landscape. The best way to do this is by planning a car trip where you can visit a multitude of different places at your own pace. Stunning variations of trees, lakes, oceans and plant life are all at our fingertips-especially when we're talking about flowers that graze our earth in splendor!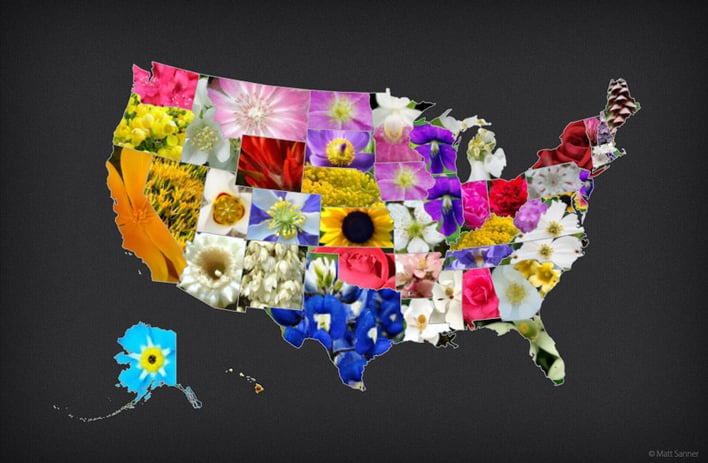 photo credit via MattSalad.com
If this idea is right up your alley, you'll want to make sure you have a few things to bring with you which will make recording and referencing a whole lot easier. All of the items are relatively inexpensive, a wise invest before you leave:
1 blank notebook that can be used for a journal and sketches.
Charcoal pencil for drawing and eraser. (Yes, pencils are fine too but charcoal will capture the specimen's better.)
One or two preferred reference guides to help you decipher unfamiliar species of plants and flowers. If you're into a more "tech" approach, download "PlantSnap" or "Ipflanzen" from the App store.
Plastic baggies are a great thing to bring if you're planning on taking a flower or plant home. Just make sure the specimen is not poisonous or you'll be taking along with you an unpleasant memento.
Now that you're all stocked up, it's smart to know a few of the species abundant in certain regions of the country to help you navigate properly. For instance, Massachusetts' most popular native flowers are carpetweed and violets while California hosts a wide spread population of poppies. Here's a few states to get you going on your way, which can help you plot your floral adventure!
Nevada- Verbena

4. Alabama- Agrimony

West Virginia- Yarrow

5. North Carolina- American Hornbean
Texas-Blue Bonnet

6. Vermont- Broad Leaf Arrowhead