Wedding season is a beautiful portion of the calendar when couples confirm their love for one another in front of friends and family. In order to create this stage of bliss for the newlyweds, the process involves many people. We know that we have to hire a band and caterer and whatever you do, don't forget the florist, but outside the vendors, there are others who we call upon for help. Besides the bride and groom, the matrimonial cast includes stars such as the ring bearer, the flower girl (our favorite) the bridesmaids and the groomsmen. While the children are probably excited to have important jobs for the service and the bridesmaids are just dying to wear that orange taffeta dress you assured them looked stunning on all of them, a particular group of guys may be a bit harder to convince of their relevant roles…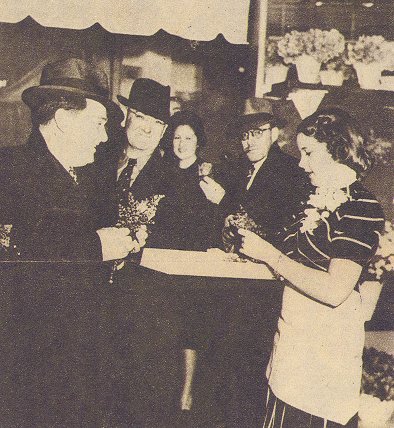 Groomsmen can be tricky to orchestrate but in all honesty, they're usually the lifesavers of the party who just want to have a good time. In general, they're the ones who loosen everyone up and make the big problems seem pretty minor after a few trips to the bar so you've got to pay attention and make sure they are fashioned as well as the rest of your wedding attendants (even if they really could care less). If you've managed to get them all in a blue or black tux or suit without any gag props being mentioned, then you've done a job well done but let us not forget the boutonnières that will be pinned to their lapels. Boutonnières sometimes have a bad wrap with groomsmen because they are often designed too big or too feminine for their taste. If the bride is insistent of making them wear fuchsia roses because pink is her favorite color, well then you're just going to live with it for the next six hours but if she's flexible, there might be hope for a "Manly Man" boutonniere.
What is a "Manly Man" Boutonniere?
A "Manly Man" boutonnière is just as attractive as a regular floral wedding piece for a man's suit but incorporates more of a masculine appeal by using darker colors and a more rustic texture. Men in general appreciate this contemporary style of dressing them with flowers because the shading and size tends to be simpler, smaller and less flashy than traditional pieces.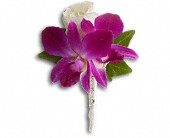 How Can You Request "Manly Man" Boutonnières from Your Florist?
Mentioning this term to your floral representative should be explanation enough but if you have to indulge them further, request boutonnières that utilize greens, browns, blues and white. You can even get away with oranges and reds when the season calls for it. Rustic lapel displays are both attractive and soothing to the eye when walking down the aisle, plus they look great in photos as well. Try these cool "Manly Man" boutonniere ideas for your wedding day and watch your guys dance the night away!