If you're getting married this fall, you are one lucky gal or guy because the colors and textures from which you can work from are simply spectacular. They'll be no blushes or pastels during the month of November (unless that's what you really want), only crisp electric color to snap up a bride's palette. For those who prefer this spectrum compared to other watered-down options, you'll be thrilled to know that these shades can be utilized anywhere from the floral arrangements all the way to the table settings. Yes, the warm tones are crossing boundaries into unchartered territories such as the brides and groomsmen's attire, not to mention the cuisine being served, so have fun and explore the possibilities! If you ask me, it's about time these fall bridal ceremonies bumped up their color game to give guests a real taste of what it's like to live in New England during November. Here are the first two areas where you can venture inside the richness of flavor and shake up the traditional white wedding "I do's". Don't be afraid to experiment outside your comfort zone and give your special day the pop of color it deserves!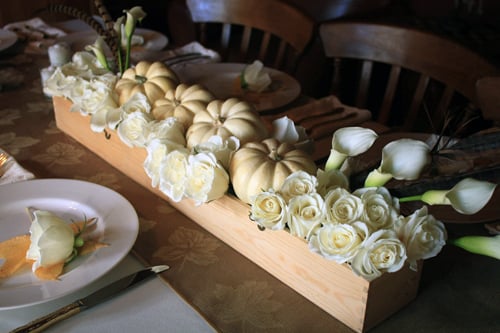 photo credit via aboutflowers.com
Floral centerpieces are the first place where most people start when trying to design an autumn wedding because the color choices might just set the stage for everything else. We know the obvious shades of gold, red, green, yellow and orange are the obvious choices but you can also insert hints of other gem-tones too. Try purple for instance, which can be varied in several different hues from plum all the way into a deep pink. Hydrangea is an excellent fall variety and can be adjusted to rely heavier on either the green, blue or purple shades as much as the bride prefers. Another welcomed touch of color is black which can darken the contrast and create excitement when mixed with orange. If the Halloween look is not your thing, throw in pieces of cream and green to lighten the appearance. Think lisianthus, chocolate cosmos and cymbidiums when planning this style for yourself.
Yum, Yum- wedding cakes are LOADS of fun to design during the fall months! Depending on your taste, orange, green, peach and brown are simply stunning when dressed on the tops of delicious icing. You have the option of having a professional baker use frosting to create your autumn dessert or select seasonal blossoms that will make the display perfect. In my opinion, flowers are always the way to go, particularly when you have such a beautiful variety of blooms to choose from during November. Gerbera daisies, orchids, calla lilies, millet, roses and dahlias make great additives and all are available in a multitude of different festive tones. You can also put an authentic touch on your cake by using maple leaves which have been touched by Mother Nature.