It's Valentine's Day and you need to come up with a bundle of gorgeous roses asap but aren't sure what to get. If you're like most guys, a dozen red will do but I'll have you know that you may not want to choose the color so quickly without a little research first. Did you know that a pink tinted flower could send an entirely different message than perhaps roses in the shade of purple? Or how about white petals instead of yellow? It's true that each color option reveals an individual theme so it's important to select the one that correctly portrays your feelings. You might think its ridiculous that any woman would ever fall for an impression based solely on the color of a rose but I assure you, it has happened before. Would you want to imply marriage to a girl that you simply wanted to recognize as a good friend? How about giving the intention of affection when you really wanted to send your condolences? I'm telling you, this is a crucial step in choosing the proper Valentine's Day roses for your sweetheart. Here is an easy to follow guide that outlines the shade and meaning of each variety of rose available to you this holiday.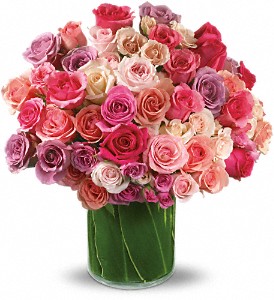 Color Meaning
White Rose Innocence; I'm worthy of you.
Burgundy Rose Unconscious Beauty: Beauty Within
Lavender Rose Affection; Enchantment
Green Rose Envy; Infatuation
Light Pink Grace; Friendship; Joy
Yellow Joy; Friendship; Let Us Forget
Magenta Encouragement; Message of Love
Dark Pink Thankfulness
Orange Variety; Creativity; Fascination
Peach Desire; Gratitude; Appreciation
Red Love; Passion; Respect; I Love You.
Purple Reward of Virtue; Worthy of Royalty
Blue Mystery
Rainbow Party Time
Now that you've perused the list and probably found the appropriate shade matching your intention for this holiday, it's time to pick up that phone and order your Valentine's Day flowers today! Don't forget to mention to the sales representative the specifics of your order and request that no substitutions be made just in case there is a diminished supply of your selection. If this should occur, never underestimate the power of a pretty mixed bouquet and a great bottle of wine!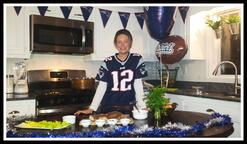 Patriots Fan Suzie Canale at her Westwood home.
Suzie loves garden roses.