Saint Patrick's Day is known for more than just wearing green-it's one of the best holidays to feast on delicious traditional dishes from Ireland! It happens to be a common misconception that meals served in honor of this celebration are, in general, bland with little to no flavor. That is simply not true! Over hundreds of generations, mouthwatering entrees have been developed by Europe's finest cooks and passed down to their ancestors who have migrated to Boston. Having their own adaptations and special ingredients, authentic Saint Patrick's Day cuisine has become a true celebration unto itself being served not only in Bostonian homes but also in restaurants and hotels all over the city. Another bonus for these recipes is that they are easy to make and considerably less expensive than other holiday spreads such as Thanksgiving or Easter. Once you've found the meal that is perfect for you, don't be afraid to put your own spin on things by adding spices and other vegetables preferable to you. These are my favorites that I will be cooking this Saint Patrick's Day that you just might find the urge to whip up yourself.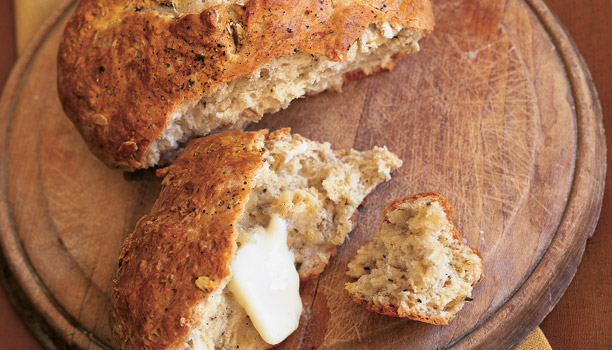 photo credit: epicurious.com
Irish Soda Bread
Ingredients:
2 teaspoons baking soda 3 tablespoons of caraway seed 2 cups raisins
1 cup sugar ¾ cups butter 3 eggs
6 teaspoons baking powder 2½ cups buttermilk 1 teaspoon salt
4 tablespoons sour cream 3 tablespoons milk 5 cups flour
Preheat oven at 375 degrees.
Mix together the baking powder, sugar, baking soda and salt until the batter is dry. Slice the butter into pads to make it easier to combine with the mixture, making a crust like consistency. Then add the raisins and caraway seed to make the bread flavorful and interesting to the taste. Add a dash of milk slowly until the bread doe can be formed into loaves. Place into bread oven dishes and bake for 55 minutes. Serve with another slab of butter and eat immediately!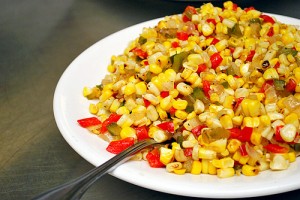 photo credit: truefoodsmarket.com
Corn O'Brien
Ingredients:
½ cup chopped onion 4 tablespoons green bell pepper
3 cups yellow corn kernels 2 tablespoons diced pimento
3 strips bacon 1 tablespoon salt and pepper
Heat a skillet with a dash of olive oil and cook bacon until the pork is nice and crispy. Set it aside while keeping the juices in the pan to flavor the next steps of cooking. Add the pepper and onion and sauté until well cooked and softened. Put the bacon back into the skillet as well as the pimento and corn kernels. Cook until all of the ingredients have blended well and then season with salt and pepper. Serve piping hot and enjoy!
Suzie Canale
Westwood, MA