So you're heading back to college (YAHOOO!) and planning on the décor, which will make your dorm bedroom not only comfortable but also welcoming for friends who will soon be dropping by. If you've already hit Target, there's probably a trendy comforter with throw pillows and a string of white, holiday lights packed away along with other cool accessories you know will look great up on your walls. It's a fact that teens across the country compete to create the "chicest" living area, hoping to become the official hangout on the floor. Looking back at my college days, I remember how hard we all tried to add our own flair of unique personality to our personal areas, which transformed an ordinary room into something especially made for us. For artists, there were paintings, for musicians there were guitars-everyone had their story to tell and we did it through the objects we chose to display.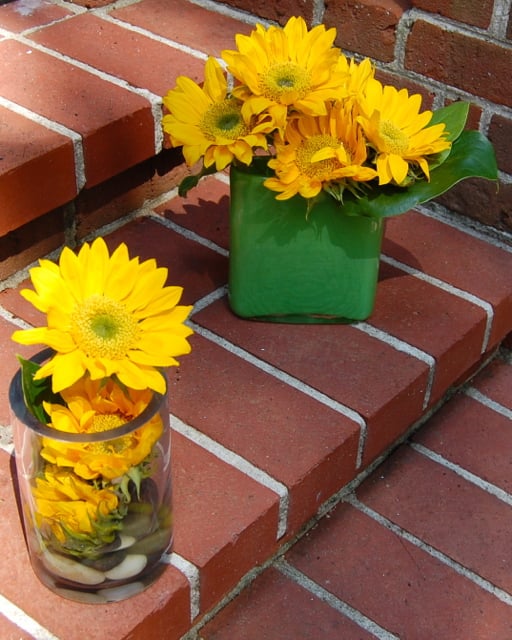 photo credit via aboutflowers.com
For me, you've probably guessed that I had to have lots of things growing around me, whether they were plants or arrangements-it was a necessity I craved. Since I worked on the weekends for my parents who owned a wholesale flower company in the city, it wasn't hard to make this happen. Not only did I drive back to school with a little extra cash to pad my wallet, I also brought back bunches of my favorite varieties that I would arrange in large vases and place around my room. As you can imagine, my dorm room definitely stood out from the rest and quickly became the site for Sunday movie watching and Saturday night pre-gaming. Through flowers, I had made a special placethat friends felt welcomed and soothed through the use of color, texture and aromas.
I get it… I get it… Not everyone has a flower shop available to grab a few freebies and due to the fact that the majority of college kids out there are broke-you'll need to think outside of the box. Never fear, there are some really cool and inexpensive ways to infuse flowers into your dorm life and you don't have to be a designer to pull it off. Try these DIY tips to make your college living space a special retreat!
Place a cactus inside a mason jar. You don't need to water it often and they cost around $10 bucks to buy.

Succulents are only about $5 and are also low maintenance for that busy student to maintain.

Peace lilies are cheap and give a room a pretty plant "feel" as well as bamboo that infiltrate a "trendy" appeal.