Everything around us is up and blooming here in New England with beautiful foliage and flowers popping up from the green ground! Whether we are growing our own summer beds or just enjoying someone else's landscaping efforts, Bostonians are stopping often during their daily busy routines to embrace the beauty of summertime blossoms and the significant appeal they add to the view. Personally, I love to check out what everyone else is cultivating in their yards, particularly varieties of blossoms that can be easily cut and transferred in to the home. Making your own arrangements during this time of year can be both rewarding and therapeutic, making it a popular past time for many. Of course, there are certain blooms that are better for use in this hobby that browsers should be aware of when browsing the selection. Zinnias, hydrangeas and roses are some of the more dependable species but if you don't see these where you live, there are plenty more to choose from. Be on the lookout for wild sweet pea, lavender, catmint, peonies, sunflowers, sedum, nasturtiums and yarrow if you don't have issues with serious allergies. Types that may be difficult to remove along with possibly shortening their lifespan are poppies, morning glories, scabiosa and lantana so be aware of what makes a great clipping as opposed to a bad.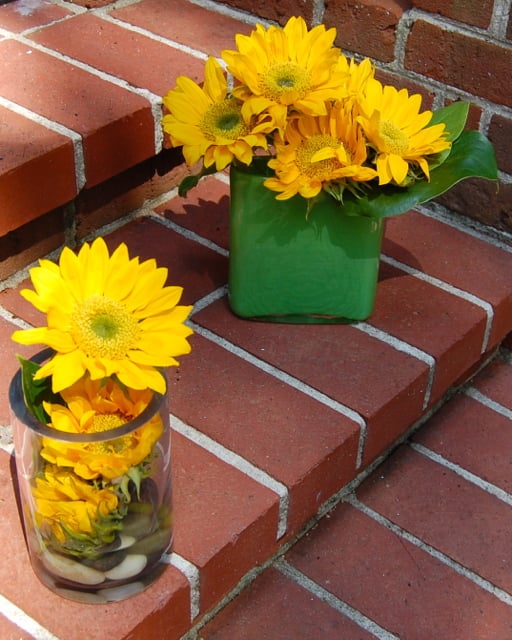 photo credit via aboutflowers.com
Once you spot something you like that will withstand the procedure, grab a good pair of sharp clipping shears and snip the stem at the base. If it is attached to a larger limb, be sure not damage the existing plant so that another offshoot will grow in to replace the one you took. Small samples of flowers are perfectly okay to use in indoor arrangements but taking the base plant can end up killing the entire thing, allowing no growth to return at all.
The next step is to immediately pace the summer bouquet in a clean container of warm (not hot!) water. If the vase you are using is a bit dusty and you want to give it a quick rinse before designing your flowers, be sure not to use soap that will cling to the edges. The cleanser can kill off your blooms quicker than anything, which can act like a poison to the stem. Depending on the varieties you've chosen, you may have to change the water frequently to avoid buildup of murky liquid-a not so pretty presentation for the flowers you've collected. Place in a warm to cool area that does not exceed temperatures past 70 degrees and enjoy the blooms for as long as they last!