When we meet that special person, we often seek ways to impress him or her in order to show them how we feel. Maybe it's a dinner to a fancy restaurant or maybe it's a Hallmark card that's says just the right sentiment, but whatever we decide, we want it to be a perfect match for that individual. If you're a flower lover, you probably choose to send flowers that perhaps might consist of a dozen roses, a bouquet of favorite blossoms or even a single stem of buttercup or daisy. Yes, flowers have been the most popular way to connect with a person and have continuously been an effective conduit to show them how you feel.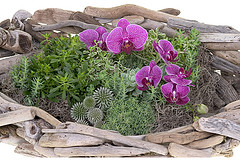 photo credit via aboutflowers.com
Here's an idea… what if you could be a bit clever on how you gifted them? Instead of just wrapping up any old bunch of flowers, how about using your noggin to think of interesting ways to impress their unique sense of self? What are their likes, dislikes, hobbies or dreams? As soon as you figure that out, you can implement your creativeness to really give them something special! No two people are the same and neither are two roses. Here are a few ideas to get the wheels really turning towards impressing the love of your life!
For Those Who Love to Bake
A colleague recently told me about this movie she watched where a baker was wooed with a case of "flour"-you know, the cooking kind? I thought this was so brilliant and really showed his love for her individuality while still sticking to a traditional gesture. By making a pun based on her occupation, he was able to connect with her in a deeper, more meaningful way as well as show a sense of humor. Sure, she probably would have kissed the guy anyways if he handed over a pile of orchids, but the effect wouldn't have been nearly as strong, nor would have been the scene. If you're trying to get a special baker's attention, this might be the "sweetest" way to do it!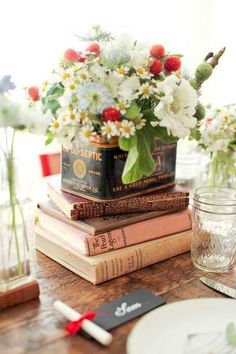 For the Book Lover
If you're trying to get the attention of a book lover, you're going to have to use your head. Although a vase full of wildflowers will surely be adored, why not pick out a few titles that are written about flowers instead? You can either grab a few floral designing books, gardening manuals or even a novel such as, "The Language of Flowers" by Vanessa Diffenbaugh or "Flowers in the Attic" by V.C. Andrews if they like a good thriller. Your courtship will be extra intellectually sentimental as well as useful reading material for the future!
For the Gardener
I personally love this approach because not only will a gardener appreciate the message but they'll be extra excited to have a head start for planting. Seeds that are the most thoughtful would either be varieties of their favorites or choosing perennials instead of annuals. Perennials will come back year after year and will remind them of you each time they bloom.