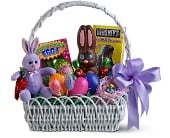 Dear friends,
The spring is the most exciting time of year at Exotic Flowers. We ready ourselves for Easter, Secretary's Day, Mother's Day, Proms, Graduations, and the garden. Our greenhouses are bursting with outdoor plants and our sales staff and designers are ramping up for an intense eight weeks.
This week celebrates Easter and Passover. I am sure you have noticed that these holidays no longer carry their previous stature. It is time to change that. It is time to start your own traditions and create your own memories. Our childhoods were so special because we have so many special memories. Start your holiday tradition today and make sure flowers are a part of it. Perhaps you could even take in an Easter movie this weekend. Hop is sure to please.
"The change of seasons in the spring is associated with new life, so bright new spring blossoms are especially meaningful at Easter. According to Christian beliefs, Easter also symbolizes the rebirth of Christ; lilies sprung up from Jesus' blood drops, which make Easter lilies especially significant traditional flowers for religious celebrations." - BigAppleFlorist Blog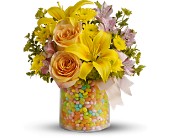 This Easter, Exotic Flowers in both Roslindale will be open til 2pm and delivering. Exotic Flowers in Faneuil Hall Marketplace in Boston will be open from 11am-6pm. We will have hostess gifts, like Easter lilies, tulip plants, pansies, azaleas and abundance of fresh cut flowers.
Thank you for your loyalty. Thank you for your referrals. Thank you for spending your hard earned money at Exotic Flowers & Lombardi Florist.