J.K. Rowling has become one of the most beloved authors of all time after her creation of the whimsical wizardry character, Harry Potter. Throughout the series, the author managed to take her readers along for a wonderful ride filled with magic and adventure, making readers beg for more once the final chapter arrives. Due to her genius of technique, Harry Potter has become more than a mere fictional fantasy and has transposed itself into a beloved phenomenon that reaches out to new fellowship every year including athletics, education and even fashion.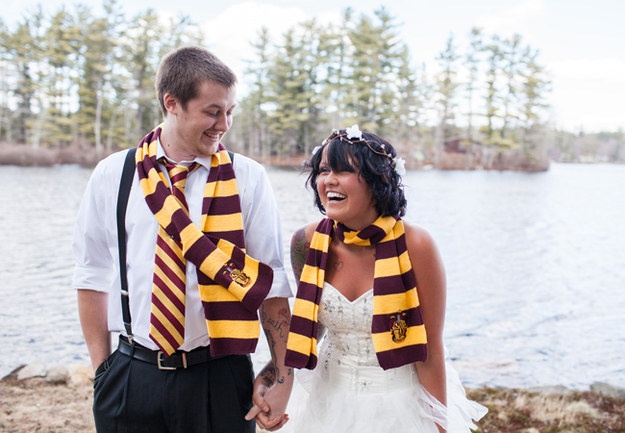 Mon Petit Studio monpetitstudio.com / Via blog.theknot.com
One area that we are seeing an interesting realm of expansion is within the wedding scene where brides are requesting Hogwarts themed celebrations. Including wardrobe, décor and even menu servings, wedding planners are now being challenged to re-create Rowling's enchanting world that lies beyond platform 9 ¾'s. While conservative critics snub their noses at this idea that shies away from traditional pastel florals, white gowns and typical matrimonial cuisine, others are ready for a change and diving in with both creative feet! Are you curious as to how to accomplish this innovative magical illusion that focuses on the wizarding world? Take a peek at some of these brilliant ways to transform your everyday wedding fete into something you and your guests will never forget!
Décor
This is pretty easy if you've read the books or seen the movies because all you have to do is replicate one of the Hogwart's locations such as the dining hall, staircase or one of your favorite classroom areas. Props can be simply made by covering books and labeling them with titles such as "Advanced Potions" or "Transifiguration Made Easy" and simple tea lights can be lit for illumination. Place cards are another great bridal detail that can be set up to represent the different houses where guests will be sorted by table. Make sure the linens match each section and add a bubbling flask filled with food coloring and dry ice to add effect.
Flowers
Another super simple wedding feature that can be adapted to the theme are the flowers, which only have to be picked for their hues of red, blue, green and yellow. Another option would be to place heavy gold and silver accents resonating the opulence and mystical feel of the story or making Paper Mache flowers out of old recycled books. Containers should also reflect the motif, focusing on metallic shades or jewel-toned vases. If you really want to get fancy, have your florists make gold colored balls filled with sprayed blossoms that symbolize Quidditch balls like the Quaffle, Bludgers and of course, the Golden Snitch.
Wardrobe
The bride and groom can have fun with their costuming by playing characters in the series, the two most popular couples being Ron and Hermione or Harry and Ginny. Bridesmaids can wear different red, yellow, green and blue fabric dresses representing the different houses (Gryffindor, Slytherin, Hufflepuff and Ravenclaw) and the groomsmen can simply wear a tie which also color-coordinates in either solids or stripes.