Baseball Treasure Introduces Collectible Baseball Coins Officially Licensed by MLB and MLBPA

BOSTON, MA - MAY 22, 2018 – Baseball Treasure, a company that mints MLB licensed collectible coins featuring 30 current Major League Baseball stars, today announced the introduction of collectible baseball coins in copper, silver and gold.
For the first time ever, a star from every Major League team has been minted in a one-ounce copper coin presented in a full color cardboard mount. Each coin displays the player's name, position, and etched portrait on the front (or heads), and an action image with a 2017 highlight on the back (or tails). Blind packs retail at $6.99 each.
In addition to the 30-coin copper base set for 2018 Baseball Treasure MLB Coins, collectors can also hope for the rare chase coins. The odds of obtaining a .999 fine Silver version (a $50 retail value) is one in 432, while the chances of getting a gold coin (a $2,000 retail value) is one in 21,600.
The logo and packaging are designed by Todd Radom, an independent graphic designer specializing in branding for professional sports franchises and events. His work includes the official logos for Super Bowl XXXVIII and the 2009 NBA All Star Game, as well as the graphic identity for Major League Baseball's Washington Nationals and Los Angeles Angels.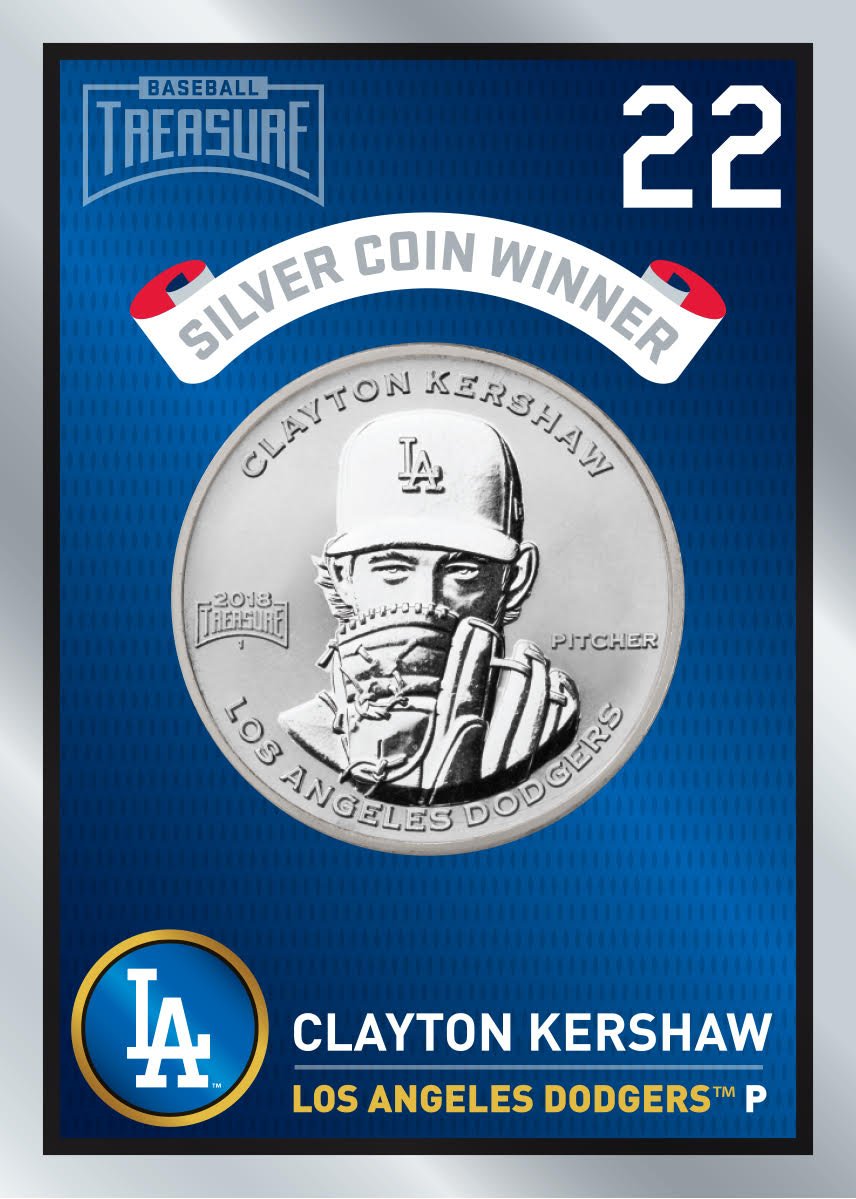 "Baseball Treasure offers the thrill of the chase'," said co-founder Rick Canale. "With Baseball Treasure, we have added the excitement of including the gold and silver coins. You never know who or what coin you might get."
Officially licensed by MLB and the MLB Players Association, the coins will retail at $6.99 and are sold on the BaseballTreasure.com website, at sports memorabilia shops, Modell's Sporting Goods, and at the New York Mets, New York Yankees, Philadelphia Phillies, Seattle Mariners, San Diego Padres and Washington Nationals gift stores. The coins will also be sold at the National Baseball Hall of Fame and Museum gift shop in Cooperstown and on the Hall of Fame's website, www.mlb.com and www.fanatics.com
"What MLB liked about our product is the "blind pack" nature of it,," said Baseball Treasure co-founder, Rick Canale. "It's the 'thrill of the chase.' You don't know which player you are going to get. If you are in New York and opened a pack and got Mookie Betts, you might buy another one or try to trade it to get Aaron Judge."
The BaseballTreasure.com website was designed by FanBrandz.com, which creates branding programs and logos for sports licensees, sponsors, broadcast partners, web designers and advertising agencies. With over 25 years working with league and team brand owners and their stakeholders, Fanbrandz knows what it takes for imagery that resonates with marketers and fans. Follow Baseball Treasure on Facebook (facebook.com/baseballtreasure), Instagram (instagram.com/baseballtreasure), and Twitter (www.twitter.com/baseballtreasur).
####