Flowers are one of the top five gifts to send for all occasions, being beaten only by Hallmark cards statistically speaking. Baskets, bouquets, centerpieces and even single stemmed blooms have always been the go-to for making a thoughtful gesture in both good times and bad. No matter what the events is such as birthdays, holidays, wedding or funerals- local florists are always prepared to extend your thoughtfulness with a gorgeous selection of fresh blossoms. While designers are always happy to steer you towards the appropriate mix of variety, there is a generalized system for ordering these flowers although customers can definitely bend the rules. If you don't know the person's favorite variety, color or style, here are some tips that may help you navigate these waters. Remember, this is a broad outline for the best flowers to give for each occasion so don't be afraid to go out on a limb and select the species that appeals to you most!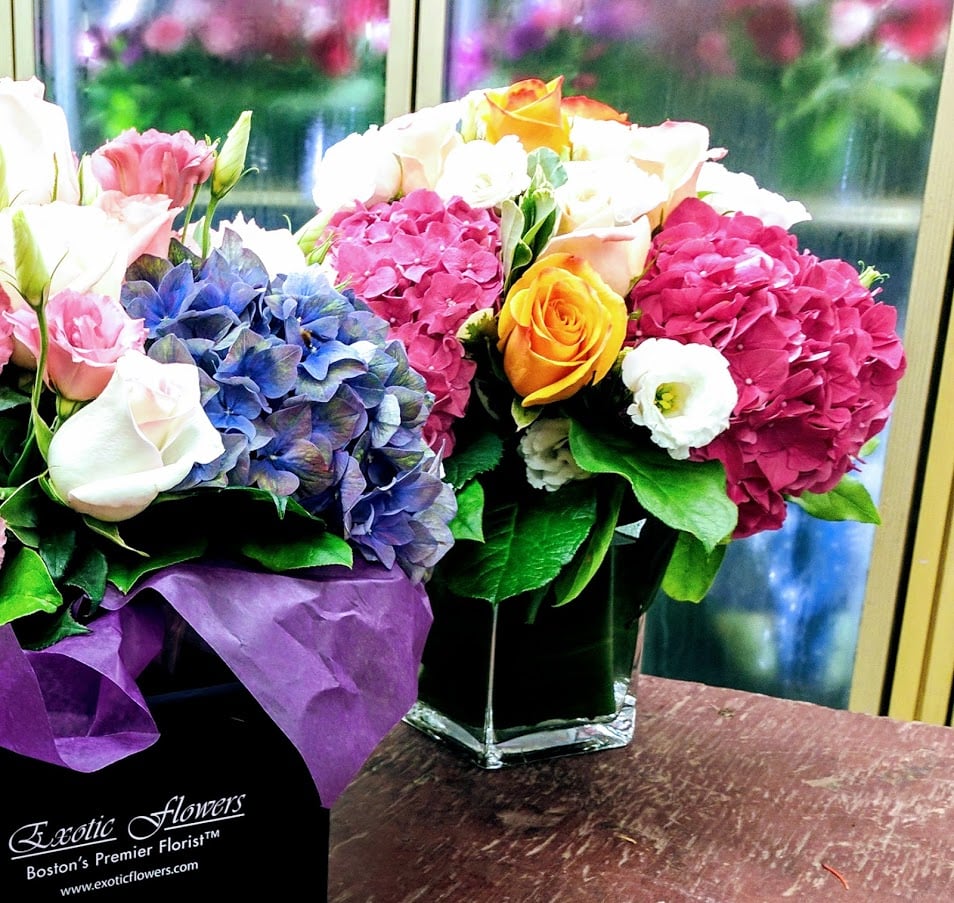 Birthday: A special birthday present for her is always a beautiful bouquet so you really can't go wrong when selecting the variety mix. If you know her favorite blooms, then great but if you don't, pink roses, purple lilac or green cymbidium orchids will do the trick!
Mother's Day: Pink roses are another big hit on Mother's Day but you can also substitute them for ranunculus, sweet pea or peonies. Blush and coral work best for this holiday but there's a wide spectrum of shades to choose from.
Valentine's Day: You can't get away with not giving a nod to red roses on Valentine's Day but mix bouquets of lavender, hot pink and green seem to become more and more popular each year. Red is clearly the theme tint for V-Day but it's okay to stray away with some variation.
Funerals: This can be a difficult venue to book flowers for but keep in mind, the family will appreciate your thought no matter what you send. Staples for funerals usually include white lilies, white callas, white Phalaenopsis and white roses but again, color is not taboo for funeral pieces. Gifting a basket of bright flowers can sometimes really pick up the mood for those who attend the services such as pink peonies, sunflowers or blue delphinium.
Get Well Soon: "Get Well Soon" bouquets are typically mixes of soothing shades, textures and aromas. Even though one may believe that bright yellow is cheerful, the tint can actually cause anxiety, particularly for those who are on the mend. Instead, ask for tones of light blue, peach, blush or coral. If you are set on yellow, go for a lighter shade that won't attract so much attention.
New Baby: This is an easy one… Blue for boy and pink for girls! Don't make it any harder than it has to be…
Graduation: This is an occasion where you want your flowers to stand out so go for jewel tones that "pop" with color. If this is a high school graduation, do your homework and find out where the student will be attending college. Look up what the colors for the university are and then design your bouquet accordingly.