Throughout 2016, we've seen an impressive parade of weddings grace our Boston aisles, each having their own style and tradition to display. The remarkable efforts of our finer city florists have truly out done themselves across the spring, summer and fall months of the year, so now we ask, "What do you have in store for the winter?" Now that we find ourselves entering the colder realm of New England, designers have a fresh palette of color and texture to help construct yet another magnificent, bridal presentation for those planning to wed during December, January and February. For those who think that the chillier weather is too hard to manifest a fabulous wedding floral presentation, think again… Florists are generating jaw-dropping pieces for centerpieces, bouquets and pew markers that are sure to impress even the most skeptic guest. If you're planning on walking down the aisle within the next few months, you might want to scroll through these ideas that embrace the beauty and breath take of winter in New England.
Pew Markers and Podium Arrangements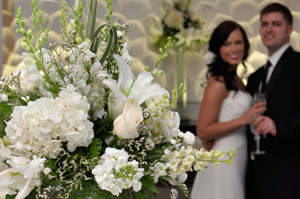 photo credit via Lombardo's in Randolph
Sometimes when we thing of winter flowers, we automatically envision green, red or white but in all honesty, there's a lot more options out there than merely Christmas colors. Just by using our imaginations, we can transform all churches, temples and other religious centers into mystical staging perfect for brides and grooms everywhere. One tip to keep in mind is that winter flora should be depictive of reflective color similar to ice and candlelight. Pastels are the precise answer, including hues of peach, cream and light green that stay away from deeper shades like purple and crimson.
Table Centerpieces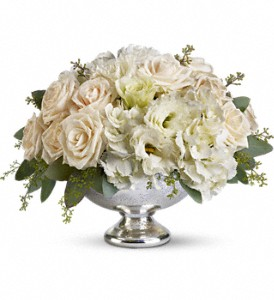 For dinner receptions, you should be focusing on the lighting, which should be glowing and dream-like in nature. Unlike the summer or spring where the mood is typically bright, winter bridal décor should be cozier and that goes for your table work as well. Creams and opalescent tones are especially nice during this time of year and can be either created in large or small containers. Since votives are a "must have" with this type of appeal, use varieties that will soak in the mood such as white roses, succulents or lambs ear greenery.
Bridal Bouquets and Boutonières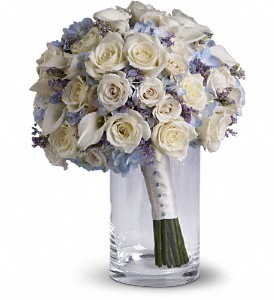 Silver is an excellent property that should be worked in wherever it can, especially within bridal bouquets and boutonières. Not only is it reflective of snow but it also a shade remindful of fairy tales and magic-an idea many brides love to see interwoven throughout their event. Select forest types of nuts and berry foliage and combine with soft shades of blush or baby yellow. Both the groomsmen and the bridesmaids will sparkle while the bride stays center focus within this "woodland utopia" appeal.