: Transportation...
"Two such as you with such a master speed cannot be parted nor be swept away from one another once you are agreed that life is only life forevermore together wing to wing and oar to oar"~ Robert Frost
The type of transportation that you choose depends on several aspects of your wedding planning including the couple's personality, location and time of year. The exit of the bride and groom from their ceremony and reception is often a memorable one for all in attendance, giving importance to the issue of selecting mobility that reflects both the essence of your matrimonial gathering as well as the symbolism unique to the two people starting their journey together. Another factor to be aware of is New England's predisposition to temperamental weather patterns, which although adored for her changing face throughout the year, can sometimes be unpredictable when it comes to precipitation and temperature changes. Coupes reciting their "I do's" within the Boston area should always take into consideration this safety factor as well as choosing a desired means. By referring to the following guidelines, you will find that this city offers an extensive array of solutions perfect for whisking the new "Mr. and Mrs." off onto their new adventure.
The Limousine~ The limousine is a classic choice, assuring passengers a safe yet luxurious ride to each destination. Generally equipped with mini bars, adjustable temperature controls, moon roofs, comfortable seating and a driver, this type of transportation is the best option for most newlyweds. Not only is the limo appropriate for anytime of the year, it is also reliable for any type of New England weather forecast. Although ancient lure believes that rain is a sure sign of good luck on a wedding day, the bride who is stuck in a sudden downpour without a roof overhead might disagree!
Horse Drawn Carriages~ Horse drawn carriages provide a romantic exit within a fashionable elegance and historic grace. Appropriate for those travelling short distances during the more temperate times of the year, the bride and groom will enjoy a relaxing and soothing ride in the back of a coach, comforted by blankets, champagne and the exquisite views provided by the surrounding scenery. This type of transportation is particularly sensational for countryside or metropolis located affairs.
Classic Cars~ For the past several years, the popularity of classic cars within event planning have grown considerably, appealing to those looking to shake up the wheels of their wedding. Rolls Royce's, Bentleys, Mustangs, Corvettes, and Model T's are both stylish and fun for a fast getaway to the honeymoon. Bon Voyage decor such as streamers, "Just Married" signs and strung cans looks particularly adorable when trailing the tail lights of one of these beauties.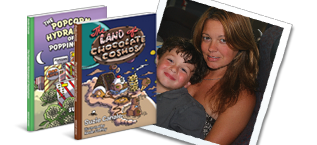 Suzie Canale is a local Boston Author - Purchase a copy of her latest children's book, 'The Candy Roses of Cape Care' at
www.thebeantowntales.com