Daisies are a very popular flower in American culture and have held their popularity over time even though some critics often refer to them as weeds. The lovely wild flower is often seen growing in clumps within fields or easily planted in backyards as part of a planned landscape. Daisies are also frequently requested by Boston brides to be either used as petals for the flower girl, worn as daisy crowns for bridesmaids, pinned as boutonnières for groomsmen or even arranged to make the wedding bouquet. Although it's no secret that more exotic options are available to gardeners and newlywed couples, these soft and subtle flowers still remain in fashionable demand. What is the strong attraction to daisies?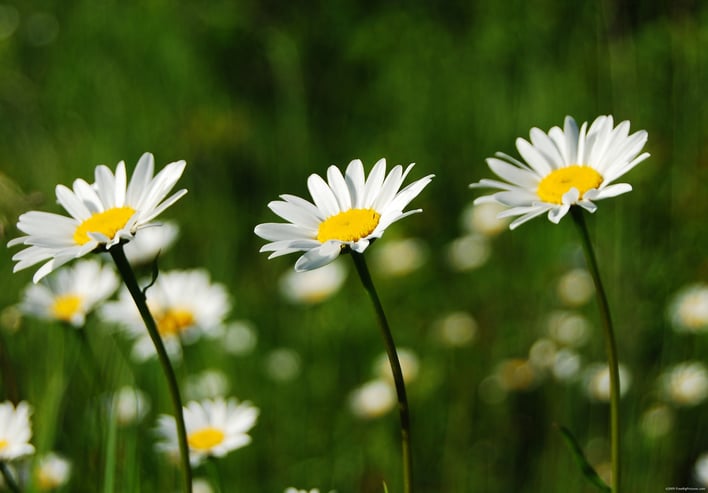 photo credit: freebigpictures.com
Could the reason perhaps be because of the historical meaning behind the daisy?
There are several different theories explaining the plausible reasons behind this phenomenon and why this bloom has held such a strong symbolic meaning. Here are just a few of the largest representations daisies have been known for throughout time.

First and foremost, daisies are interpretive of the signs for purity and innocence. The explanation is tied into the imagery of children often picking stems in open meadows because of their common availability in these areas. From this idea, daisy petals transpired into becoming a popular option to fill bridal baskets for flower girls to carry down the aisle. The sheer white color of the flower stands for the bride and groom "purity of love" as well as the notion of "children" and "childhood", another prominent theme encouraged for newlyweds.
The daisy also signifies "preference" which is based on medieval times when knights wore two daisies on their shield for a Lady to choose from. If there were several knights vying for her affection and she hadn't quite made up her mind which suitor to select, she would wear a crown of daisies on her head until she was ready to choose.
Another interesting ritual branded by the daisy is its ability to foresee if a person was loved by their interest or not. Plucking one petal off and then another while reciting, "he loves me, he loves me not" is another ceremonial practice placed upon the flower although there is no real proof that the daisy will accurately forecast the true answer.