I think we all agree that gifts made from the heart are the best gifts to receive, especially when they come from our children. There's something about unwrapping a present handed to you by your child and watching their little faces light up with pride that makes this type of gesture the most meaningful. So it's up to us to encourage crafting for children and to teach the value of this sentiment instead of spending money to show others how we feel. With Mother's Day soon approaching, we have the perfect opportunity to open up the window for this type of creativity! Books and online websites have loads of ideas for both kids and parents to start using their imagination, particularly with crafts thematic after flowers, which are wonderful for the holiday. Here are a few of my favorites that I've found and hope to pass along to your children to make this Mother's Day!
photo credit: kansascity.com
Paper Flower Pinwheels
These are so sweet and easy to make by just folding the corners of a piece of colored paper and securing the center front and back with plastic beads. Have the kids go one step above and write all the things they love most about mom on the petals to let her know how much she really means to them!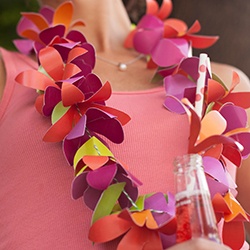 photo credit: crafthubs.com
Paper Flower Necklaces
Who needs gold and diamonds when you can make this adorable paper flower necklace? Cut out desired blossom shapes and glue to a string or paper loop and let mom show off her flashy new bauble! Felt is also an optional material.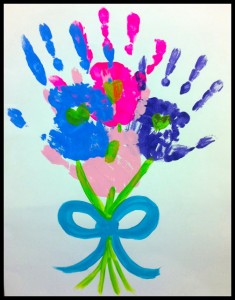 photo credit: funhandprintartblog.com
Painted Handprint Flower Bouquet
It doesn't get much cuter than this when your child gifts you with their tiny handprints to form a bouquet. Not only will she love hanging this piece of artwork on the wall but she'll also be able to remember the days of her children's early childhood for years to come.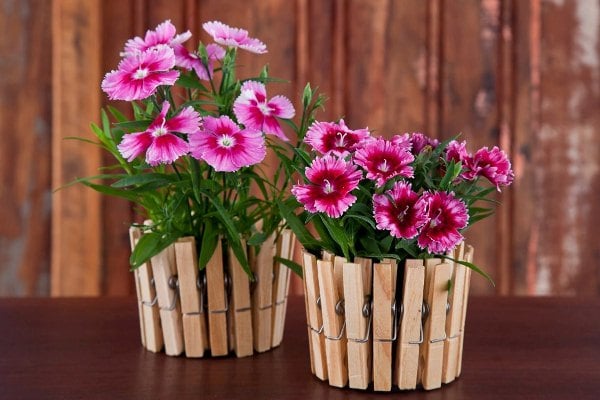 photo credit: goodshomedesign.com
Clothespin Pot
Grab some old clothespins and glue them around an old clay container to make this neat little flowerpot! Cut out small hearts and clip them to the sides, afterwards adding a little plant to finish the effect! Mom will love the creativity and the purposeful usefulness, too.