New England gardeners should be pleased to know that their tomatoes will surely be making their summer debut within the next few weeks. Particularly if you have invested in varieties such as "Beefsteak", "Early Girl", "Fireworks" or "Jet Star", your crops will surely be bursting with an abundance of brightly colored red fruit. Although we'll have to wait a bit longer for further seasonal types such as "Ponderosa Pink", "Hillbilly" and my favorite, "Mortgage Lifter" to ripen to perfection, we'll still have plenty to pick from to get Boston's veggie lovers started.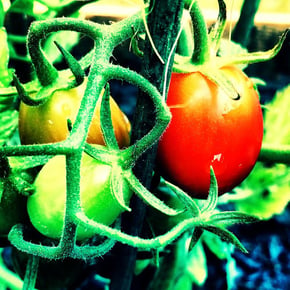 So now that we have tomatoes, what should we do with them? Cook them of course!
Tomatoes are not only a delicious vegetable but they have several beneficial health attributes as well. For one thing, they contain large amounts of Vitamin A and C, not to mention a good helping of folic acid. They have also been know to preserve brain and nerve tissue plus provide the body with aiding functionality of low blood pressure rates, conversion of glucose into energy and also act as an antioxidant to fight against diseases such as diabetes, depression and cancer. All in all, it's a good thing to always have in our diet and lucky for us, there's a ton of ways to include tomatoes in our meal schedule. Here are three dishes for breakfast, lunch and dinner where we can enjoy the taste and health benefits!
Breakfast
Toast and Tomato is a tradition in my family where it is most enjoyed during the lazy mornings of summer and there is no question that this fare tastes the best if they've come from your own garden. All you have to do is toast two pieces of wheat bread and lightly spread a low fat butter or substitute across the surface. Choose your variety of tomatoes and thinly slice the fruit making sure the pieces aren't too bulky because if they are, you'll have a doozy of a time eating it!
Lunch
The BLT is a widely overlooked sandwich and is sometimes ignored for its overwhelming simplicity but as we all know, sometimes less is more. All it takes to cook this mouth-watering treat is a warm roll, a fresh couple of iceberg lettuce leaves, 1 to 2 pieces of well sautéed bacon and the star ingredient- a juicy red slab of red tomato. If you would like to lower the calorie intake, just swap the bacon for a turkey or soy option.
Dinner
Ratatouille is probably one of the most decadent yet simple dishes that tomatoes are the most celebrated. Since the concoction is traditional within a multitude of cultures, we are lucky to have a variety of recipes to choose from. My favorite involves adding chopped green pepper, onion, garlic, zucchini, eggplant and mushrooms to a simmering pot and seasoning it with salt and pepper. Once the ingredients condense, add a can of tomato paste and a bunch of your own tomatoes. Allow to cook until resembling a sauce and serve as is or serve over rice or pasta.