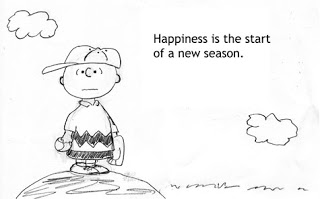 Below is a copy of a letter that I sent out to baseball fans that I share cards with every year. Please let let me know if I can put you on the list.
Happy Opening Day,
If you are getting this letter, you know how much I love baseball and especially Opening Day. I did sign the petition to make it a national holiday. Alas, we celebrate things like Columbus Day instead.
My Opening Day tradition of ripping open a pack of baseball cards remains. I love sharing that tradition with you. No gum in these cards, sorry they took that out years ago. They should still infuse the cards with the scent though. That smell sparks nostalgia.
This year, our friend Kenton Jacobs opens a barbecue stand on Yawkey Way at Fenway Park. He makes the best barbecue. Make sure you tell Jake, that Rick at the flower shop told you to stop by !
See you at the ballpark !
Rick