I know it's hard to believe but Easter is right around the corner and due to show soon on Sunday, April 1st. Many of those who celebrate the holiday look upon the festivities with not only a religious perspective but a seasonal perspective as well. Easter is commonly celebrated either at the end of March or the beginning of April, marking the return of the springtime season. We get excited about the prospect of warmer weather, melted snow and the arrival of our beloved blooms that have been sleeping all winter, making Easter flowers something we truly look forward to sitting on our tables. Boston florists take this into account when planning their design work for this special Sunday event and rely heavily on the theme of rebirth and renewal. With so many gorgeous varieties to choose from, you can count on local flower shops to have an extravaganza of options readily available to pick out. Whether you're hosting a large holiday party or a quiet celebration at home, a fresh bouquet of spring flowers is exactly what you need to get everyone into the spirit.
photo via aboutflowers.com
Eggs are optional…
Very often, we see Easter arrangements advertised with a stuffed bunny stuck in the middle or foam glitter eggs glued to a stick as part of the presentation. For one portion of the floral clientele, this look is just what they want but for others-less accessories goes a long way. I myself feel like simplicity is the way to go with floral arrangements and believe that if you're using the best varieties, the flowers chosen should do most of the work. What this means is if a designer selects the best quality of blooms to create with, chances are the piece will be stunning on its own without having to add any "bling" to dress it up. This advice rings true for holiday arrangements, too. For example, bunching together a clump of grape hyacinth, ranunculus and sweet pea into a single bouquet is a wonderful mixture that perfectly reflects the Easter holiday. There's no need to insert anything else into the vase when you have a showcase of beauty already created. Another idea is to simply place three to four bunches of ten stem bunch tulips in a glass bubble bowl, which is beautiful just on its own. If you really want to top off the centerpiece with a bit more accessory, delicately place a few white eggs at the base so that they won't detract from the flowers.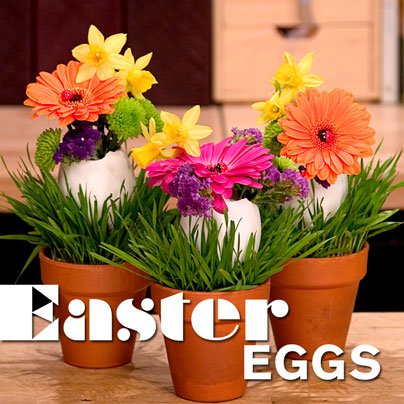 photo via aboutflowers.com
Easter plants will always be a favorite for many….
It's true. Easter plants such as lilies and tulips will always remain one of the top purchased items for gifts during the Easter season. Why? Because they are easily handled, affordable in price and so pretty to look at long after the holiday has gone by. If this is one of your yearly traditions already, be sure to remove the tin foil that may be placed around the base of the plant. Although it is sold for more decorative affect, the material can often destroy the leaves, affect water distribution and compromise the soil.