Americans celebrate Valentine's Day by sending flowers, chocolates and Hallmark cards filled with romantic gestures of intention. Annually celebrated on February 14th, we see our stores and flower shops filled to the brim with red and pink decorations, cupid shooting arrows and other symbols relating to love between two people. Since we're used to this traditional presentation typical to most states in the USA, we sometimes don't realize that other people across the globe carry out these festivities in a whole other manner. Not everyone observes Valentine's Day by dining in dimly lit restaurants, gifting their lovers with sensual bouquets of blossoms or satisfying their sweetheart's "sweet tooth" with a box of sugary treats. No, it's a big world out there, encompassing hundreds of thousands of different customary practices -particularly when it comes to the holiday designated to "amore". Curious by this, I decided to research a few outside cultures and see how we match up! Is perfume, lingerie and long stem roses all that's needed for the rest of the world or is there a differentiation between the United States and other countries? You'll be surprised to read what I found out…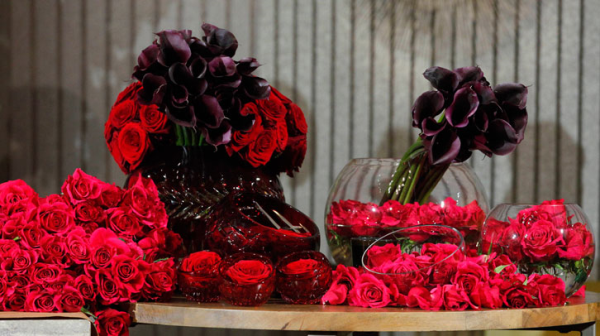 Photo credit via Jeff Leatham
Denmark
This is a country that loves to celebrate February 14th and has always had an overall strong appreciation for flowers. While blooms are definitely apart of their romantic rituals, they opt instead to give their honeys pressed white snowdrops instead of fresh arrangements. Cards are also exchanged but are referred to as "gaekkebrev" (a joking letter) that holds a funny poem instead of our typical use for sentimental varieties.
Wales
Wales is a really interesting place to discover during Valentine's Day as well because they have no use for roses or other generalized gifts during their holiday. Celebrated on January 25th in retribution for their patron saint of love, the Welsh choose to give their mate a spoon made with beautiful designs that represent a feeling or trait. Many become very valuable with age and are past down as family heirlooms throughout the generations, sometimes re-gifted as a token of luck during marriage celebrations.
Philippines
This is a place that really understands romance at it's highest! While we focus on "stuff" to give our valentines, they utilize this special day with ceremony-MASS CEREMONY! Thousands of couples gather together in areas such as community-based organizations, parks and even malls to recite their wedding vows. Instead of walking down the aisle as a single couple, Philippine lovers prefer to say their "I do's" in front of a multitude of others, truly sending out a message of love to all.