Math and statistical data formulas are useful tools if you are into flowers because these applications can tell you a lot about the probability of success rates when plantings varieties, how many seeds you'll need to plant and many other useful situations. For example, what is you wanted to know the probability of how many bulbs you would need to plant to ensure you had 5 healthy plants bloom in the spring? Or what if you're planning your wedding and need to know how many stems of a variety you can afford to stay safely within your budget? Florists utilize their numerical skills everyday when they make decisions about ordering flowers and providing just the right inventory for their shops. Careful research needs to be done with forecasting sales so that they not only please their clients but also maintain a healthy bottom line in the accounting books. Trust me… it's not easy! If you hold an interest for flowers and data driven facts, you might find these figures fascinating that pertain to the industry of growing, exporting and shipping.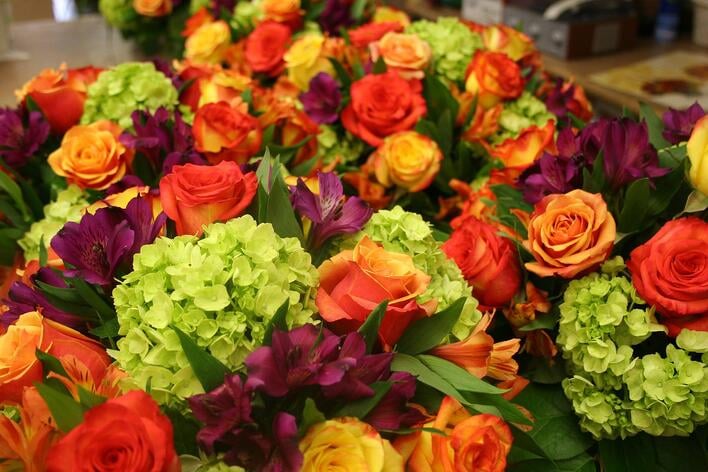 Do you see any fact or figure that surprises you?
80% of all flowers in the United States are imported from other countries around the world.

The estimated amount of roses bought by suppliers for Valentine's Day is roughly 300 million stems.

The flower industry made approximately over 31 billion dollars in 2015, a 5 billion dollar increase from sales in 2011.

With over 784 growers nationwide, the Gerbera Daisy is one of the most popular flowers in the United States.

144, 000, 000 stems of tulips are circulated annually from wholesalers, Holland being the largest market trader.

Close to 2 billion dollars are spent on flowers each Mother's Day making it one of the busiest holidays for florists followed by Valentine's Day.

Working farms growing flowers only account for about 1% of the US population.

30% of the gross income for farming comes primarily from their export business.

Garden Plants are still the most popular in the US for purchase followed by cut flowers and houseplants.
| | |
| --- | --- |
| Garden Plants | 46% |
| Cut Flowers | 34% |
| House Plants | 20% |