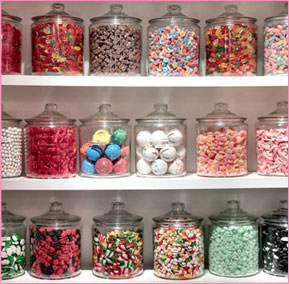 I was born in Boston in 1970 and grew up in Roslindale. As a child, we were fortunate enough to be able to walk or ride our bikes to our friends' houses, play baseball by ourselves at Healy Field and street hockey at Fallon Field. Our bikes were like our own cars and gave us a freedom that almost no Boston child can experience today. With a pocketful of change, we could go to the local store and fill our pockets with bubble gum, baseball cards, candy cigarettes, and jaw breakers. Stores like the Town Spa, Florence Street Variety and many other corner stores kept a close eye on all of us as we gazed at all the goodies under the glass.
Imagine seeing a kid with a candy cigarette today. Not only not cool, but you would think it was a joint. Candy stores today are few and far between and the ones we find today are like Candy Kitchen in Delaware.

While the average corner store candy sale was less than a dollar, a candy store today must average twenty dollars per transaction to stay in business. As we appoach Sweetest Day on October 19th, 2013 we are reminded how candy stores have innovated and struggled to remain relevant.
Sweetest Day is celebrated on the third Saturday of October. In 1921, a group of Cleveland candy makers brought the event to the public. The idea is to celebrate someone sweet with something sweet. Sweetest Day was started to gain some commercial recognition for the confectioner's craft and flourishes in cities like Cleveland and Detroit. Although not that popular in Boston or New York, many college students will bring their traditions to the northeast to celebrate loved ones with candy, cards and even flowers. Why not start your own tradition and this Sweetest Day ?
At Exotic Flowers in Boston, we admire those trailblazing confectioners of Cleveland. As smart businessmen, they grouped together to keep their business relevant. Florists throughout the world can learn from these men. Teleflora makes an attempt with National Make Someone Smile Week and FTD tries with Good Neighbor Day. In 2013, the floral industry needs some trailblazing flower shops to adopt an idea to keep our business relevant.