On Monday, October 9th, we will be celebrating Columbus Day, the celebration of Christopher Columbus who landed in the New World in 1492. For many Bostonians who enjoy their history, families will be gathering in historical locations across the state such as Plymouth Rock in Plymouth, Massachusetts. Others will be reading up on the momentous occasion and maybe even be attending a reenactment performed in several of our surrounding communities. The activities available are endless and it's a certainty that whatever type of Columbus Day information you're looking for- Boston has it covered.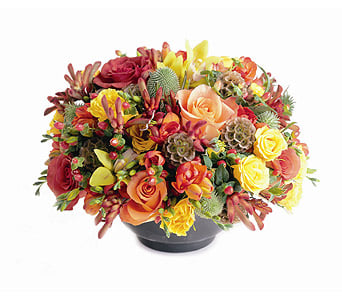 photo credit via aboutflowers.com
History buffs aren't the only ones getting into the spirit of things this October since many are attempting to bring their own authenticity of this time into their own floral studios. While many parties will be hosted to mark this special event, florists are trying to find and design with blooms that were genuine to the times. What does this mean? Well, it's safe to say that several species such as hybrid delphinium, phalaenopsis and calla lilies were probably not around in the New World of 1492. That of course, does not mean that tables were not dressed with floral décor-it just means that the varieties which were obtainable were specific to the area. What blossoms were they picking to showcase at their holiday meals? Here's a list of probable species we might have seen during this historic era.
Wheat wasn't only a necessity to survive, but it was also a beautiful plant that could be cut and put into vases. Bunches could also be tied together and hung in doorways or on doors as a gesture for welcoming guests into their abodes. The longevity of the stocks would have made them a cost-effective choice for décor plus the color was conveniently versatile with any furnishings present in the home. Wheat is also a sign for "fertility", "love" and "charity; three themes that were very important at this time.
Tobacco was not only a huge cash crop but also a beautiful plant that bloomed pretty flowers during the late spring and summer months. Commonly referred to as "Nicotiana", the stems could be cut and arranged for centerpieces that not only made a lovely display but also gave off a noticeable scent that may have been aromatic to homes. Flowers range from a white to soft pink shade which would have "dressed" a special meal perfectly.
Wild Lace Flower was another stunning wildflower that graced the hillsides of the New World during the 1400's. Due to its ability to survive with little to no nourishment, lace flower was likely to have been cultivated in mass amounts across glens and meadows. This variety was a favorite for children who could load up their baskets with stems of these dainty blossoms to bring home as a present to their mothers. Their white (cream), flat headed bloom closely relates to the fabric for which it is named after and comes from the carrot family that grows similar foliage to the vegetable. Today, lace flower is still a favorite for many who love the natural appearance of a floral arranging and can be readily ordered from your local florist today.