It's time again to start getting a little spooky decorating for Halloween! Not only will our homes need to be accessorized with cob webs, witches hats and fake spiders climbing the walls, our flower arrangements needs to be made to reflect this ghostly spirit as well! Boston florists are devising cleverly creepy pieces for their customers who possess a fun imagination and passion for celebrating this BOO-tastic holiday in style. Designers are considering all elements when putting together arrangements including style, décor and texture that will coincide with this scary time of year. That means the slimier, furrier, scalier, sweeter and eerier we can make these floral presentations – the better! Halloween flowers are among the top most requested ornamental pieces for New England residences and particularly for businesses. Local establishments even claim that one of these festive arrangements can actually increase sales and revenue for the month of October.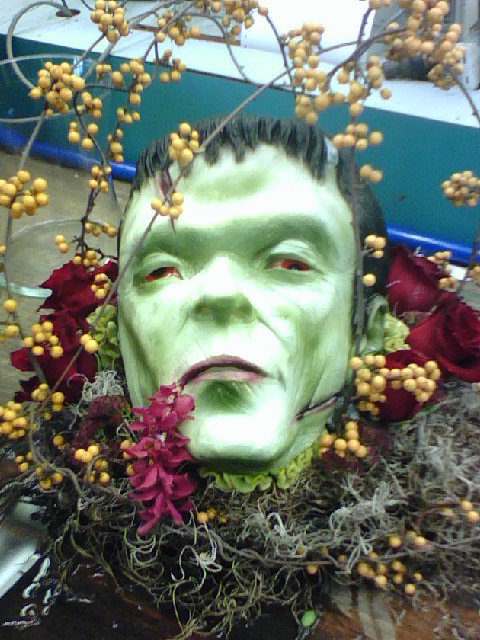 My husband always sends me Halloween flowers. The one above was created with a Frankenstein mask. He used candy for the eyeballs. His head rests on top of spanish moss. his scar is celosia flower, while the blood drip from his mouth is an orchid. Red roses and bittersweet provide the ideal frame for this creepy floral creation.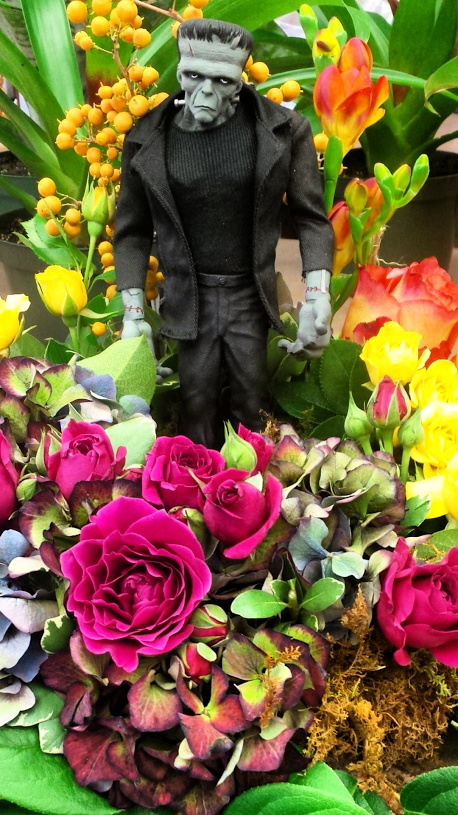 Last year, Ricky sent me this Frankenstein arrangement at the Westwood Public Library. The focal point is the Universal Studios Frankenstein action figure. Antique hydrangea and sheet moss set the stage while pink and yellow spray roses, freesia, free spirit roses and bittersweet frame the arrangement.
Neither of these floral designs will break the bank and either one will set your Instagram account on fire.
Happy haunting.
- Suzie