If you were born in October, the gemstone that represents your birth is the beautiful opal. Opal is a one of a kind stone as is often looked upon as being a favorite to many who adore the multi changing colors of the rainbow that can be seen on its surface. Some cultures respect the gem as being the most impressive of all because it is believed they hold magic powers due to the unique properties they possess. The gem holds several meanings as well such as hope and purity but can also translate into a sign meaning loyalty or faithfulness, which is why it is the official gift for 14th and 18th wedding anniversaries. Lure also says that the Greeks believed opals had healing properties to cure ailments associated with the eyes and could possibly even have the ability to give the owner insight into the future.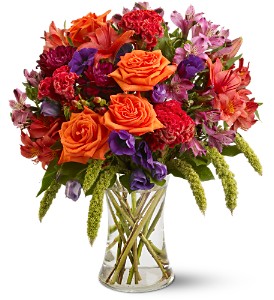 Opals are undeniably stunning with their multitude of distinctive traits which is why many florists are constantly trying to mirror this beauty with similar eye-appealing arrangements. Unlike gems such as rubies and sapphires that are much more easily matched to red and bloom blossoms accustomed to a designer's inventory, opals require a bit more thought when attempting to mimic their similarities in flowers. It isn't every day that florists come across translucent or opaque varieties when doing their ordering so they have to use a little creative thinking to replicate the presentation. The good news is, there's just about every tint imaginable within opals, giving way to the possibility that you can work with several different shades at one time. Another approach is to study more of the translucent side of the stone, which can open a door into a whole other set of options. Depending on what the clientele's objective and preference is when ordering, designers might gain a bit of wiggle room around the species they choose as well as the texture they plan to construct the centerpiece.
Baby yellow ranunculus, dahlias and roses make a wonderful gift for an October birth child because it relies heavily on the softer tones of yellow that many opals possess. The gift recipient will also appreciate the upbeat and happy appeal that is sure to brighten up any day.
A simple bouquet of pink peonies may also be the answer because almost all opals have a strong pink pigmentation laying on the the surface. Stick again with the lighter varieties and you can't go wrong with this springtime arrangement that still packs a "WOW" throughout the fall.
I love this combination of soft and severe blooms that when mixed together cause quite a show stopper! Purple thistle, mauve roses, white ranunculus and black privet berries perfectly match the allure of October's gemstone while offering a sultry and seductive charm.