I regularly boast of Exotic Flowers in Boston's ability to send flowers worldwide. Our tag line for many years was from 'Boston to Belgium, Miami to Milan,'. Unfortunately not all florists are created equal and sometimes we run into a few bumps in the road with flower availability in more remote town throughout the country.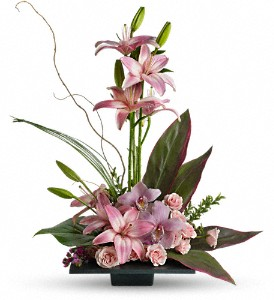 Recently a Boston client called and asked to send Imagination Blooms with orchids to Georgetown, Kentucky. I explained to the sender that while the florists in Georgetown do a lovely job of lush flower vases they could not offer the orchids in the photo for same day delivery. Alas, the sender was let down and chose to take her business elsewhere. We get our clients the freshest flowers from the best florist in every community. Some times they do not always have the exact item the client is looking for. For example, orchids are abundant in New York and Boston, but not so much in Georgetown.
One great thing about trusting worldwide service with a local florist versus FTD is that we offer a personal service that a corporate giant cannot replicate. When you call Exotic Flowers in Boston, real people answer the phone and will follow your entite your order and even provide delivery confirmation.