At Exotic Flowers in Boston, we actively contribute to floral associations. We are members of FTD, Teleflora and the Society of American Florists, (SAF). We exchance ideas with our colleagues and are always looking to learn so that we may remain Boston's Premier Florist.
Recently, Exotic Flowers and myself were featured in Bloomnet Magazine floriology. Below is the article in its entirety written by Fred Russell in April 2012 edition.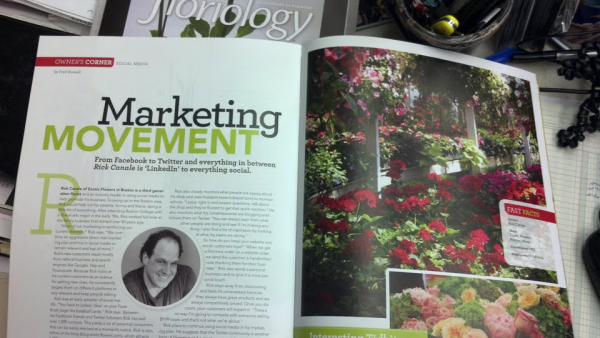 From Facebook to Twitter and everything in between Rick Canale is LinkedIn to everything social.
Rick of Exotic Flowers inBostonis a third generation florist and an industry leader in using social media to help promote his business. Growing up in theBostonarea Rick would help out his parents Sonny and Marie doing a little bit of everything. After attendingBostonCollegeas Liberal Arts major in the early 90's, Rick went to work full time at the family business that started over 50 years ago.
"Most of our marketing is reinforcing our current clientele", says Rick. "We combine an aggressive direct mail marketing plan and mix in social media to remain relevant and top of mind", he adds. Rick sees his new customers result mostly from referral business and a lot from local search engines like Google, Yelp and Foursquare. Because Rick looks at his current customers as an avenue for getting new ones he consistently targets them on different platforms to stay relevant and keep people talking about them.
When it comes to social media Rick was an early adapter and could foresee the movement coming quickly. "You have to collect 'likes' on your Facebook page like baseball cards", says Rick. Between his Facebook friends and Twitter followers Rick has well over 1,000 contacts. This is a lot of potential consumers at your fingertips that can be easily reached at a moments notice. Rick is also very active on his blog (http://blog.exoticflowers.com/) which attracts 6,000 unique visitors a month and tries to reach out to his customers via a social avenue three to five times a week. "I write about everything; from social issues, what's going on inBoston, baseball or top five movies of the week", says Rick. "You don't always want to make it about you and be to self serving, you just want to be out there so people see your name". Rick likens it to a Presidential Campaign, "it's all about shaking hands and kissing babies!"
Rick also monitors closely what people are saying about his shop. He uses Hubspot (www.hubspot) to monitor activity. He gets a notification that his shop name is being mentioned somewhere. "I jump right in and answer questions, talk about the shop and they're floored to get that quick reaction". He also monitors what his contemporaries are blogging and follows them on Twitter. "You can always learn from what other people are doing and see if I'm missing anything. I also find a lot of inspiration by looking at what my peers are doing".
One of the things Rick has asked himself is how do you keep your website and social customer's loyal? "When we get a first time order on a website order we send the customer a hand written note thanking them for our business". Rick also sends a personal business card, not just one with the store name to give it a more personal touch. Rick also stays away from discounting and feels it's unnecessary because they always have great products and are always competitively priced and once you discount your customers will expect it. "There's no way I'm going to compete with someone selling $9.99 rose and that's not what we're about.
Rick plans on continuing to use social media in his marketing plan and thinks Twitter is still in its beginning is about to boom. Rick suggests the Twitter community is just another form of blogging and a great way to catch a customer's attention with a quick, catchy message. As far as another recent social phenomena—Pinterest, Rick compares it to a coffee table book. "Everybody loves coffee table books, but how often do you read them?" With the recent fascination Rick will observe it's progress and develop a presence down the road.
Be sure to follow Rick on Twitter @RickCanale!
Owner: Rick Canale
Shop: Exotic Flowers
Location:Boston,Mass.
Employees: 10 full time
Established: 1957