The holiday season is upon us and first up is our favorite turkey time of the year- Thanksgiving Day! As we get reading to shove the birds into the oven, iron our table linens and pick up that special case of wine we've been dying to try, we mustn't forget the beautiful floral centerpieces we look forward to each year. This is the season where Boston florists can really show you what they're made of so don't wait too long to put in your request for a spectacularly designed vase stuffed with November's top pick varieties. Luscious, rich and decadently hued, you're going to love these beauties which are sure to awe and stun your guests this Thanksgiving!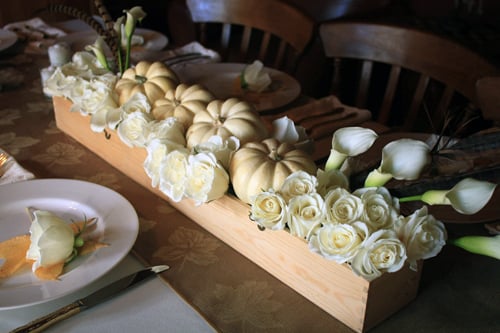 photo credit via Flower Factor
Green, Gray and Cream… It's In.
That's right! The shades green, gray and cream are the highlights to this season's floral splendor and surprisingly so, there are a ton of different blooms which will do the spectrum justice. Succulents are one plant that is a must-have that blends beautifully with softer shades and can create interesting texture in bouquets. Traditionally we see a lot of red, orange and brown combinations so it's refreshing when a twist occurs in the floral trend that brings an attractive look. Gray might seem like a funny color to hope for in a vase but honestly, the shade works wonders when using lamb's ear or spring pussy willow in combination with lighter tints of pink, white, peach or in this case- cream. Roses are the obvious choice for the latter segment but you can also use hybrid delphinium, gerbera daisies, stock or hydrangea as supplements.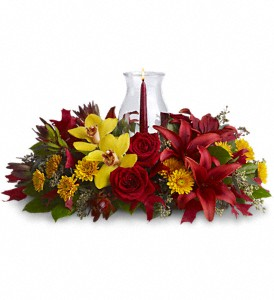 Red, Gold and Peach… Perfect!
This is another design that's certainly eye catching for dinner parties and adds a bit of mystery and depth to an evening's presentation. Red mango callas mixed with peach roses and seeded eucalyptus are too die for when placed together in a clear glass vase and will last long after the holiday meal has ended, giving hosts an extra bonus for all of their culinary efforts.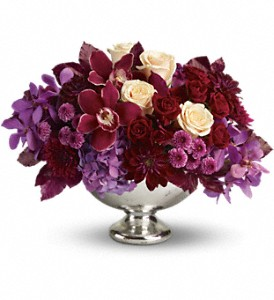 Flip the Red for a Shade of Pink!
If you're a little sick and tired of the dark orange and red contrast within Thanksgiving arrangements than you will be happy to know that a few minor tweaks can change the whole presentation. Swap out the deeper shades and replace them with blush pinks and peaches which will soften the ambiance of your gathering while still keeping in theme with the season. Strategically place gourds around the base and you'll have one heck of a conversational piece to talk about at dinner!