Some of you will be hosting Thanksgiving Day dinners this November and are already busy planning the menu, decorations and seating arrangements hoping this will be one holiday not to forget! The theme is "Giving Thanks", where gatherings are representative how much you all mean to one another so it might be nice to send your guests home with a small token to remind them of this! One example of a gift that is sure to be appreciated is a bud vase filled with seasonal flowers that you can either buy from a florist or make yourself. There's no need to spend an exorbitant amount of money or give up hours of time preparing these lively baubles because realistically, we're all too busy with other holiday chores to add more. You'll be happy to know that these specimens displayed below can all be created as fast as 1-2-3 and won't take up more than an hour of your time to design. Choose the one you like most and surprise your friends and family with a take-home Thanksgiving treat.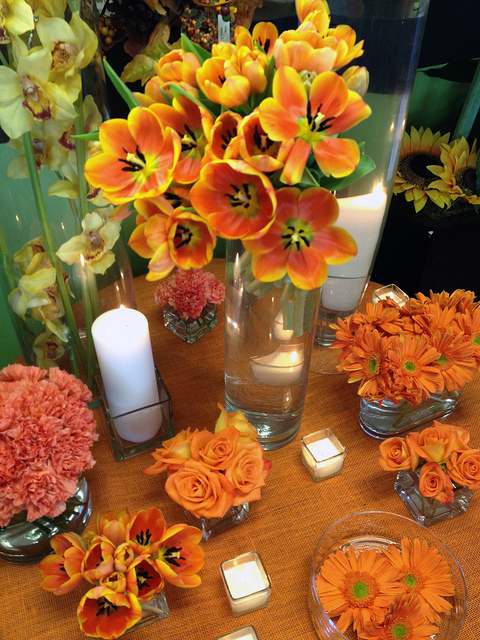 photo credit via aboutflowers.com
Roses are a fantastic choice when deciding what varieties will work will within small arrangements because they stand alone perfectly by themselves, are available in a multitude of sizes and contain a sweet fragrance that will intoxicate the room. Roses are also imported and grown within a thousand shades of color so you'll have no trouble finding hues reflective of the New England autumn we're known for. Think oranges, yellows and greens to mix together or order this presentation of a two-toned head such as the one featured in this picture. Adding a bit of brown fabric to create a rustic feel is another great accessory and can be found by shredding scraps of burlap or similar material. Make sure the container is simple like this glass jar so that there is no distraction from the blossoms and watch your guests melt with appreciation.
This is another great idea to brighten the moods of the people who will be sitting around your table this Thanksgiving! Simple and seasonally authentic, ranunculus, rose hips and rosemary are stunning when arranged together and will definitely appeal to those who love herbs and garden growing. Two out of three of these flowers can be dried as well leaving this memento the chance to remind others of happy times spent together long after the holiday is over. Remember to stick with a plain but elegant vase to showcase the design and leave at each table setting as a personal centerpiece for everyone who attends. This design is also interchangeable with other flowers of the same tones so don't be afraid to replace the rosemary with lavender, sage or other greenery if you have something special in mind.