This Mother's Day, why not gift the most important woman in your life with a beautiful arrangement of fresh cut flowers! Celebrated this year on Sunday, May 14th, tell her "I love you" with a stunning bouquet or arrangement filled with this season's new decadent blooms! From spring bulbs to exotic orchids, there is something for everyone to make the perfect selection for dear old mom.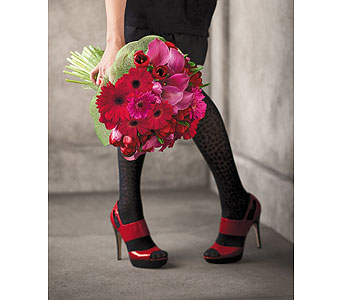 photo credit via aboutflowers.com
In the past, Mother's Day has been associated with traditional colors of blush, white and lavender but thankfully, 2017 is pulling in some new trends that are sure to "wow" their clientele. Instead of the marketing the accustomed "pink" (the color most commonly symbolizing women), why not spark things up with an interesting mix of new shades and tints? Bright green, orange and yellow are making a huge comeback, arriving earlier than their predicted summer arrival. Another option can be to choose a single tone of all blue flowers, such as incorporating hyacinth, delphinium and hydrangea together. If she is more apt to like blooms of red, gift her with an assortment of red roses, gerberas and freesia.
If you're still stumped on how to order the perfect arrangement for mom this May, follow these interesting and efficient tips this Mother's Day.
Scented vs. Scentless: You might be surprised but people actually are incredibly sensitive to a flower's aroma. The reaction can be either positive or negative so you want to find out if their nose can take strong fragrances or not. It's also wise to know whether they have allergies to certain species because lilies for example, can cause sneezing, scratchy throat and watery eyes for some folks. If this is the case, use flowers such as hydrangea, tulips or dendrobiums. If they do enjoy a pungent aroma, roses, hyacinth and lily of the valley are excellent substitutes.

Personality Counts: If your mom is on the quieter side, she may really like an assortment of lighter shades such as cream, peach and the always favored, blush tone. On the other hand, if her personality ranges on the louder side, wouldn't a bright mix of fuchsia, chartreuse or sun bright yellow be a better match? You don't have to stick to traditional palettes just because that's what's always been done before. Break out of your color funk and try finding hues that emulate who she really is!

Give Her What She Likes: If your mom isn't into to pink roses then why are you spending money on buying them for her? If the woman really adores white lilies (or for myself, lavender sweet pea) than give that woman what she wants! You wouldn't be here if it weren't for her so make sure you are really are keeping in mind her tastes.