The summer is bringing on the heat and that means we are able to transition from hiding within the limitations of our homes to the fun season of outdoor living! There will be holidays, barbecues, pool parties and dinners served alfresco so we'll need to amp up the décor of our decks, patios and backyards. No, we won't need to ring up extravagant home shopping bills just yet. With a few lighting, color and texture tips, you'll be able to transform that dull yard into a fabulous Eden for you and your friends to enjoy. Here's what's hot this summer for 2015 according to some of my favorite design companies!
Lighting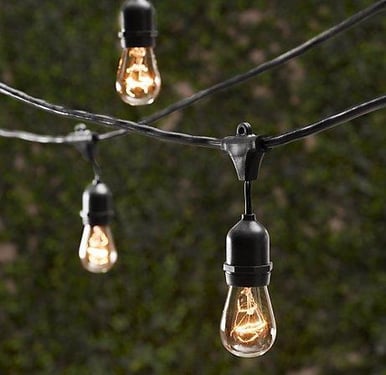 photo via Restoration Hardware
I'm in love with the new lighting ideas that are making their way out of design rooms this season. Particularly the "filament bulb strung lights" models are grabbing my attention, which are perfect to be hung on trees or deck eaves. They are replacing the lantern look of previous summer catalogs and providing a more sophisticated look for evening settings. The gentle luminescence of the bulbs provide a romantic glow to your nighttime affairs and are exactly what's needed for those intimate moments when things start warming up in July and August!
Ceramic Potting Gardens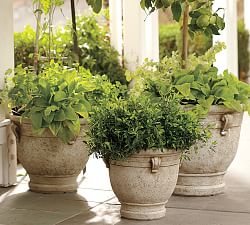 photo credit: Pottery Barn
I don't know about you, but I'm so excited for this look to be returning this summer, which is being showcased by Pottery Barn! Ceramic pots are not only super easy to pick up on your travels for low cost but they actually become more trendy when they have been a little chipped or the paint has worn down. Make sure you clean them well before potting your favorite plants and try to get creative by adding complimentary pops of color to your containers. Once they have been designed, place the pots strategically on your deck, patio or around the barriers of your backyard garden, pool or lounging area.
Bright Fabric Is In

photo credit: Crate & Barrel
Another fab line from Crate & Barrel has decided to go bright and bold with their outdoor pillows and cushions. Orange, lime green and teal seem to be this company's go-to color palette, adding popular ocean and beach themes within the textiles. You might frown a bit at the cost but keep in mind that these are so cute and versatile that they can be brought indoors once the cool weather returns to New England.