Pomegranate seeds
red as blood,
red as the sky when
the sunset sets it on fire.
shining like diamonds,
little seeds of hope in the
large, large, world.
By Carmen Reed
Nov 15, 2014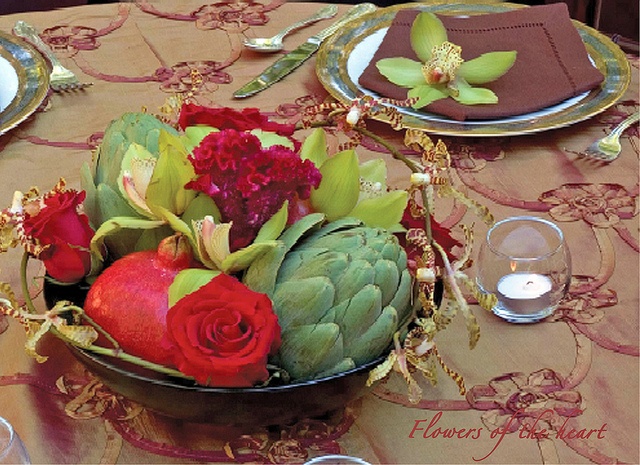 photo credit: Sharon McGukin via Flower Factor
I'm sure many of you have experienced the amazing taste of the pomegranate whether it is within a salad, fruit juice or maybe even in fancy flavored martini. These small and dainty seeds have made a grand impression on the culinary world over the years, particularly within the "health nut craze" where the flavor is used in organic meals. The is often used in floral arrangements for its beauty, color, texture and symbolism. Interestingly enough, the pomegranate has a long history of influence throughout several cultures and is regarded as an important component in several different rites and ceremonies. Originally grown in Persia and Afghanistan, the tree grows from 12 to 26 feet in height and produces round shaped vesicles that contain thousands of the crimson colored berries. In fact, in Provence, the pomegranate is actually referred to as "miograno" which translates into meaning "a thousand seeds". The shade of the fruit is what truly earned the it's decadent reputation, so much so that it is also responsible for the jewel "garnet's" name.
The pomegranate foremost stands for fertility, a notion that dates back to Greek mythology where it is associated with the story of Persephone who is taken by Hades to the underworld. The multiple seeds stand for "rebirth", in this case her return to her mother to begin the spring season. In many religions, it is not unusual for them to be gifted to women hopeful to become pregnant where they believe that a taste of the sweet seeds will encourage a seed to be planted of her own. In the Christian world, the fruit is associated with the Virgin Mary as meaning "eternal life" as well as a reference to Doom's Day. Weddings, baptisms and birthday are typical occasions where the pomegranate makes an appearance during the celebration as a drink, food or present to the guest of honor(s). The only negative meaning that seems to be associated with the pomegranate is "war" due to the core shape of the fruit resembling a grenade.
Otherwise, pomegranates have been used throughout time as a remarkable decorative feature in cuisine, art and even textiles such as fine rugs and leathers. Their positive healthy attributes and affordability make this delicious fruit still sought after over centuries of world wide appreciation.