Lily of the Valley
Susana means lily of the valley.
Shoshanna, curled petals for hair and a bridged nose,
pollen specked and running.
I was named for Abuelita Susana,
she was a leather belt and anti-semite,
stinging my dad with welts until adulthood.
Abuela did not mean her name…
By Susana Cardenas-Soto
The sweet and pungent aroma of lily of the valley makes this spring bloom one of New England's favorite signs of warmer weather arriving. The delicate structure of the plant also adds to its allure having tiny white bells dancing up a slender stem with bright green foliage, which wraps around the flower. Most believe that clumps of lily of the valley standing alone in a glass vase is enough to decorate any room, needing no other varieties to spruce up their appeal. Blooming anywhere from early March to late April, the plant loves temperate days and chilly nights that produce its optimum growing conditions. Unfortunately, the flowers disappear almost instantly once we head into summer but the good news is, this bulbed beauty will spread its roots and triple in shoots when the next seasonal cycle begins. Also known as "Convallaria", you can find the tiny bells growing almost everywhere on lawns and around houses but their favorite spot is in the forest where they really flourish. Lily of the Valley makes an excellent ground covering because its easy to plant and requires almost no maintenance making this a go-to for landscapers as they await June's fresh crop of perennials.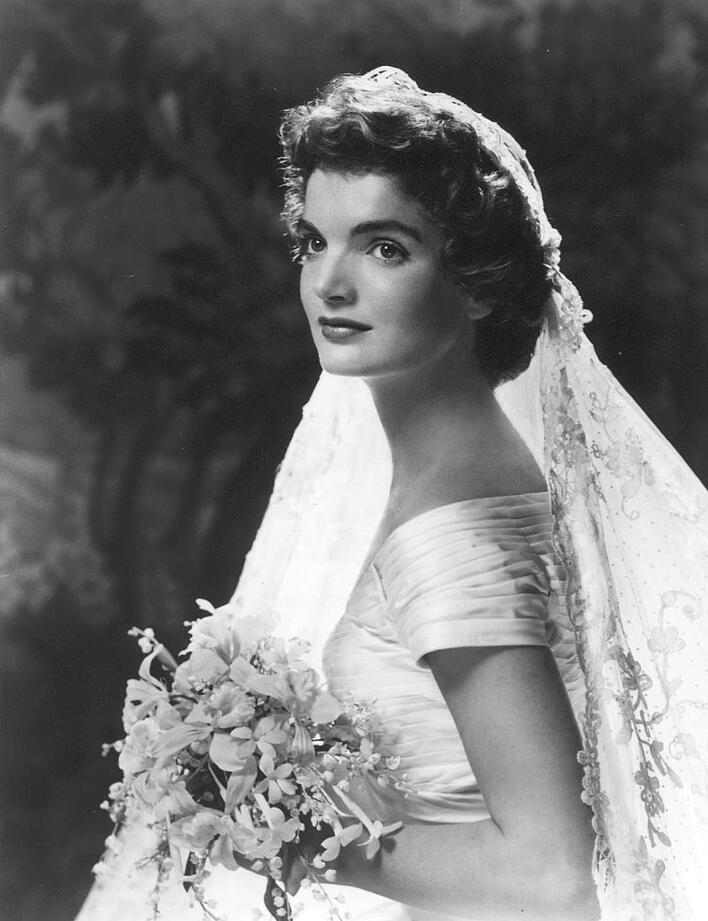 Jacqueline Bouvier, Grace Kelly and Caroline Schlossberg are just a few princess like brides who carried lily of the valley as brides.
The symbolic meaning of the flower is widely disputed since the variety is old and is referenced by several different cultures around the world. One of the more popular legends surmises that the flower is an omen of war and bloodshed. Lily of the Valley was religiously tied to Saint Leonard who had decided to live a life of solitary existence in the depths of the woods. Hoping to live out his days in purity, he unfortunately falls to the wiles of the devil who successfully tempts him, thus breaking the Saint's vows of saintly hood. For his punishment, the devil transforms itself into a beastly dragon that attacks Leonard and causes him to bleed profusely. After his blood has shed into the ground below, lily of the valley was believed to grow in masses out of the red liquid symbolizing remembrance, solitude and grief.
Today, we recognize lily of the valley as a sign of good luck and is often given in bunches to friends and family on the first day of May. If you are lucky to be the recipient of such a gesture, myth reveals that you will have a spring and summer filled with adventure and love.