photo credit: waterford.com
Coming from twenty years within the wholesale flower business, I've seen my fair share of glassware where some of the most beautiful blooms have been cascaded for showcase. After a while, you learn that the angling of a vase, the height, color and even the material from which it was made from all impact the overall presentation of the arrangement. Factors such as the architectural difficulty, texture and design of the flowers are irrelevant if the bouquet is displayed in an uncomplimentary vase so its pretty important to study the mathematical aspect of selecting the proper glass line. In the previous years, we have experienced the "less is more" trend where holders are often clear with uncomplicated lines of patterns. Even the cobalt phase has finally passed, relieving us of electric blue bubble bowls and cylinders in many experts' opinions only hid the beauty of flowers instead of flattering them. Yes, we've moved away from these traditional floral formats and are now asking for more contemporary glassware styles that will widen our appeal to potential customers. Jeff Leatham just might have found the answer within his cutting edge, Lego like invention named the "Tina Collection".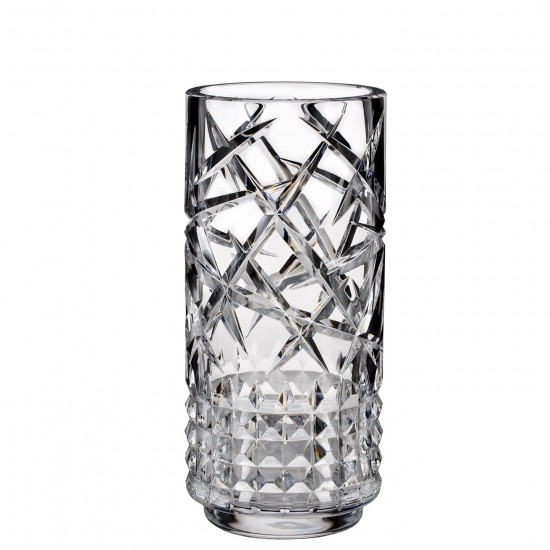 photo credit; waterford.com
Inspired by a building theme of connecting pieces as found in a Lego set, this young florist has found the answer to boring rose mounds and fragmented designing styles. Constructed from crystal, Leatham of Waterford Fleurology has come up with a new way to display wedding, hotel or daily made arrangements by not changing the flowers but changing the vase. The "Tina" collection encompasses a cutting edge reasoning that glassware does not have to be singular. Particular items within the product line connect with one another allowing flowers to be built in innovative designs within varying shapes and heights. Some members of the line also include a flip saucer where water can be held on both sides expanding the possibilities of utility even further to floating heads or candles. No longer will we have to bare the one-dimensional fortitude of the square or rectangular vase. Now we'll be able to construct pieces that have up until now, only existed within our imaginations!
Ok, the logistics sound cool but what do they actually look like? The vases are colored in either a clear or black tint, which allows creators to switch back and forth within light to dark depths of spectrum. Different varieties of flowers that have customarily not been appropriate to interweave will now "make sense" within this brilliant "out of the box" strategy that leaves traditional floral thinking in the dust. Now designers will be challenged to stray from the uniform presentations that so many of us are used to and delve further into the possibilities of creativity! It's about time business owners will be able to expand their merchandise to include the drawing appeal of crystal and flowers…what could be better than that?